PDSA Pet Fit Club

Research from the annual PDSA Animal Wellbeing (PAW) Report has found that 12 million UK pets are being fed too many fatty treats, including takeaways, cheese, crisps and cakes, often on a daily basis, which is fuelling the UK pet obesity epidemic.
18 supersized pets are set to undergo a major transformation as they embark on PDSA's annual pet slimming competition - PDSA Pet Fit Club.
The overweight finalists, comprising eleven 'huge hounds', five 'mega moggies', and two rotund rabbits, have been put on a strict six month diet and exercise plan by PDSA Vets and Nurses to help them slim down to a healthier weight and improve their life expectancy.
The combined total of this year's finalists' excess weight amounts to over 24 stone.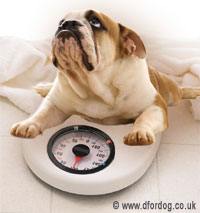 The impact of expanding waistlines on the health of our nation's pets is a huge concern for the UK's leading veterinary charity, PDSA, with 2.9 million dogs and around 3 million cats in the UK battling the bulge. But worryingly, 84% of owners believe their pets are the right weight which suggests there is a widespread misunderstanding about what a healthy weight should be for pets.
PDSA Pet Fit Club is now in its seventh year and over that time the competition has helped many pets slim down to a healthier weight and live longer and happier lives.
dog obesity
To meet the Pet Fit Club finalists and see their progress visit:
www.pdsa.org.uk/pet-health-advice/pdsa-pet-fit-club
PDSA explains "Overweight pets are at risk of serious health conditions such as diabetes, heart disease and arthritis, and have a lower life expectancy than healthy pets. Over-feeding treats and providing the incorrect diet are the primary causes of pet obesity, with 90% of dog owners admitting to feeding treats such as cheese, crisps, cakes, biscuits, toast and takeaways."
Learn more about keeping your pet healthy, including diet and exercise tips and how to assess your pet's correct shape with the
PDSA free guides to keeping your pet healthy
.
For more information about dog obesity and how to tackle it please see our article
Dog Weight and Dog Obesity
.
Back to list of
Dog News and Events 2012
© D for Dog www.dfordog.co.uk