Keeping Your Dog Safe From Lungworm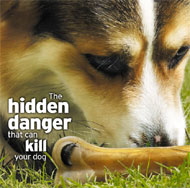 Top tips on how to keep your dog safe from Lungworm, a fatal disease on the rise in the UK.
Lungworm is a potentially fatal parasite that dogs can contract from eating slugs and snails and it's on the rise in the UK. With the increasing spread and population of urban foxes, who can carry the disease, Lungworm has been seen in more and more areas.
Vets and animal health specialists are also concerned about the level of awareness of the disease amongst dog owners and are supporting the 'Be Lungworm Aware' campaign this April to help keep the nation's 8 million dogs safe and healthy.
Mark Bossley, chief vet at leading pet charity Blue Cross says:
"We regularly advise dog owners of the dangers of lungworm because, sadly, we treat so many cases every year. It is a hidden killer so we are very supportive of the 'Be Lungworm Aware' campaign in the hope that more dogs will be saved from this horrible disease."
"We urge dog owners to talk to their vet about preventative treatments and be vigilant with their dogs when in the garden or on walks."
To find out more about lungworm and how you can keep your dog safe, watch the video below where vet Luke Gamble and Peter Purves give advice on preventing, spotting and treating the disease. For more information on dogs and Lungworm please see
Be Lungworm Aware.

Back to list of
Dog Articles
© D for Dog www.dfordog.co.uk
This article belongs strictly to D for Dog and we do not authorise the copying of all or any part of it.