TV Vet Emma Milne Talks Dog Microchipping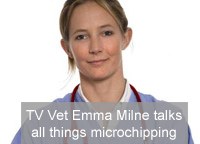 TV Vet Emma Milne talks all things microchipping in light of impending legislation
With new rules making it compulsory to microchip your dog set to be introduced, TV vet Emma Milne will be on hand with everything you need to know.
With an average of one pet going missing every two minutes of every day, that's a total of nearly 300,000 lost or stolen animals each year across the UK. These stats, coupled with new legislation set to make microchipping of dogs compulsory by 2016 and the threat of £500 fines for non-compliance, mean it is now more important than ever to ensure your pet is chipped.
To make sure you're prepared this web TV show aims to give you everything you need to know about all things microchipping from where to take your pet to be chipped safely, what to consider when getting a microchip and what you need to do to give you and your pet the best chance of being reunited if ever they were to be lost or stolen.
Do you know what to do if your pet goes missing? Are printing out the missing posters any use? What does the new legislation mean for you?
Join Emma and Celia Walsom from Petlog, the biggest missing pets register in the UK, for all the advice you need and to answer any questions you have about safeguarding your pet.
Show date: 29/04/2013
Show time: 2:45pm
Back to list of
Dog Articles
© D for Dog www.dfordog.co.uk
This article belongs strictly to D for Dog and we do not authorise the copying of all or any part of it.