The Deaf Dog Network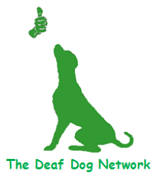 The Deaf Dog Network is a UK based initiative to help deaf dogs in the UK, set up in January 2011 by Karen Lawe of Fun Dog Training and Jaqi Bunn of Dogpsyche UK after they met in September 2010 at a Deaf Dog Awareness Day presented by Karen.
In the first instance the network is about just that; pulling together a network of people who have some deaf dog experience. This includes groomers, dog walkers, vets and vet nurses, trainers, breeders, behaviourists, rescues, and owners.
"This first year is all about promoting The Deaf Dog Network and what deaf dogs can do. We are striving to bring on board more people with the experience to help those who do not. We will be showing people that a deaf dog is after all, just a dog."
"If bred and raised well, with kind handling, positive enforcers and socialisation foundations carefully laid, a deaf dog is as good as any other. Also just because a deaf dog has been labelled as naughty all it's life and not trained, doesn't mean it can't be. It is not deafness which holds them back it is people."
Already this year The Deaf Dog Network has helped to save a number of puppies born deaf from being killed, helped save deaf dogs on death row, promoted deaf dogs in rescue and supported owners of deaf dogs who did not know where to turn.
Can you believe that many dog training clubs will not take a deaf dog? The Deaf Dog Network has raised awareness at a number of events about the plight of the dog born deaf in the UK. Through these events and their Facebook page The Deaf Dog Network has managed to acquire a small number of volunteers, with and without deaf dogs, to help with promotion, awareness and demonstrations.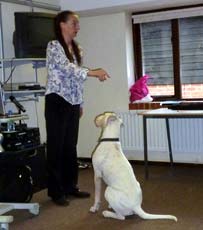 Pictured - Karen Lawe Sept 2010
Deaf Dog Awareness Day
"We need so many more" says Karen. "Sadly we have also been unable to persuade a few breeders not to kill their puppies just because they are deaf, we have been unable to save every deaf dog we are informed of on death row, or attend as many events as we would like to promote The Deaf Dog Network." More volunteers are needed so that the good work for deaf dogs can continue and thrive.
The Deaf Dog Network Aims
- To provide information and assistance on deaf dog behaviour and training
- To offer a network of deaf dog experienced people for support
- To show that deaf dogs are as trainable as any other dog
- To show that deaf dogs can live full and happy lives with off lead exercise and even take part in fun dog sports/dog disciplines
- To assist rescues train and find homes for deaf dogs
- To save pups born deaf from being killed
- To raise awareness of the plight of the dog born deaf in the UK
- To work towards the goal of preventing deaf pups
If you would like to help or volunteer or if you are seeking advice about training a deaf puppy, deaf adult dog or older dog who has become deafened The Deaf Dog Network welcome your enquiries.
For more information visit
https://www.facebook.com/TheDeafDogNetwork
Back to list of
Dog Articles
© D for Dog www.dfordog.co.uk
This article belongs strictly to D for Dog and we do not authorise the copying of all or any part of it.