April Showers - The Best Dog Raincoats
Wednesday, 22 March 2017 | D for Dog
As good dog owners, we can't be fair weathered walking companions. Our dogs love to go out, come rain or shine. But if your dog hates getting wet or you don't relish dealing with a soggy doggy after the walk, a dog raincoat is the answer.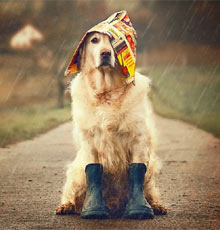 A good dog raincoat or jacket should be waterproof, a great fit and of course comfortable for your dog. It doesn't sound like too much to ask for and yet so many dog coats fall short of even these most basic criteria.
We look at the 4 best raincoats for our four-legged friends, from our own testing and experience over the years.
Before we begin, one other thing to bear in mind when choosing your dog's coat is whether they need extra help keeping warm or whether you literally just want lightweight waterproof protection for them.
If your dog is prone to shivering and shaking on a wet walk, choose a rain jacket that includes a warm fleece lining. If, on the other hand, you just want to protect your dog from getting wet, choose a raincoat that is a waterproof layer only with no fleece lining.
Lightweight Waterproof Dog Raincoat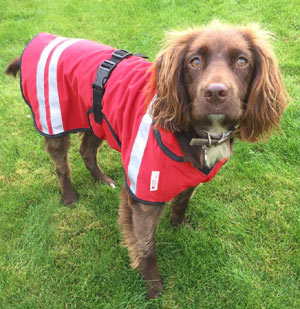 These amazing, lightweight waterproof dog raincoats have no extra bulk at all. Especially for dogs who don't want or need to be kept warm as they run about on a wet day, these coats protect your dog's back and chest from mud and rain.
Made from extremely waterproof yet breathable sportswear coated microfibre that is so soft a light it is often referred to as 'peached' because the material feels a bit like the skin of a peach. The inner is lined with a breathable Airtex.
The coat fastens with an adjustable strap and the elasticated v-neck makes for an easy and comfortable fit. Back leg straps stop the coat blowing up in the wind and reflective strips improve low light visibility.
And because each coat is hand made to order, there is also a bespoke sizing option which is perfect for dogs who don't quite fit standard dog clothing sizes.
Fleece Lined Waterproof Dog Coat
These fleece lined waterproof dog coats are the same fantastic coat as above but with the addition of a cosy black fleece inner lining for extra warmth on those chilly walks. Great for dogs who shiver and shake on wet walks.
EzyDog Element Dog Jacket
These EzyDog element dog jackets are hard to beat and offer your dog full protection from the elements.
Made from 600 denier Ripstop nylon with Oxford polyester side panels for unrivalled durability whilst remaining lightweight. They are lined with a soft, warm non-pilling fleece for dogs who like to be cosy on chilly walks.
Cam lock slider release buckles mean you simply adjust the coat once for the perfect fit and the jacket stays in place during even the most energetic walks.
This coat has a quick-fit neo-expanding neck, making it easy to put on. Light reflective piping helps with visibility in low light conditions and there is also a handy waterproof zip access hole for lead attachment to your dog's harness.
Worcester Quilted Dog Coat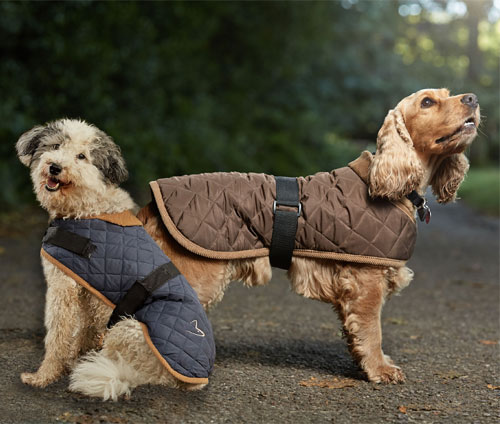 An affordable and popular option, these Worcester Quilted Dog Coats are water resistant coats with a warm quilted outer and fleece lining to protect your dog from cold, wet and windy weather, leaving them comfortable, cosy and dry.
The Velcro fastenings mean it is adjustable at the chest and neck. There is a hole for your dog's harness and lead if they want to wear their coat over the top.
These quilted dog coats are beautifully finished with a corduroy collar and trim. They are also machine washable at 40 degrees.
These always sell out fast so grab one while you can. More stock is expected in the autumn if we are currently sold out of the colour or size you would like.
Summary
Here's a handy recap of some of the features of each coat.
| | | | | | | |
| --- | --- | --- | --- | --- | --- | --- |
| | Inner Lining | Harness Hole | Leg Straps | Reflective Strips or Piping | Expanding / Adjustable Neck | Bespoke Size Option |
| Lightweight Waterproof Dog Raincoat | Airtex | No | Yes | Yes | Yes | Yes |
| Fleece Lined Waterproof Dog Coat | Fleece | No | Yes | Yes | Yes | Yes |
| EzyDog Element Dog Jacket | Fleece | Yes | No | Yes | Yes | No |
| Worcester Quilted Dog Coat | Fleece | Yes | No | No | Yes | No |
For our full range of dog coats and vests, please visit Dog Coats & Tops.

That's your pet sorted for those April showers.

By Jenny Prevel

© D for Dog www.dfordog.co.uk
This article belongs strictly to D for Dog and we do not authorise the copying of all or any part of it.


| | | | |
| --- | --- | --- | --- |
| EzyDog Element Dog Jacketfrom: £30.50 | | | Worcester Quilted Dog Coatfrom: £21.99 |