Bungee Shock Absorbing Dog Leads
2 Comments
Saturday, 19 July 2014 |
D for Dog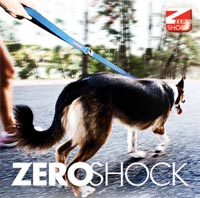 If your dog lunges and jerks on the lead, you will know how much those unexpected jolts can hurt your arms and shoulders, and it won't feel too great for your dog either.
Introducing Zero Shock - the next generation of shock absorbing dog leads and accessories by EzyDog. The range includes a shock absorbing lead, extension and coupler for dual dog walking. Each of these items have bungee-like shock absorbing properties to minimise the effects of jerking on the lead.
If your dog tends to make sudden movements on the lead that jolt your arms and shoulders, this range of products is for you. Even if your dog is a perfect angel on their lead, you will still find these leads and accessories comfortable, secure and a pleasure to use.
Zero Shock™ technology is an advanced shock absorbing component running through each Zero Shock lead, extension and coupler. The highly sprung bungee system absorbs sudden jolts and movements made by your dog. It cushions and eases the pressure felt by both the owner and the dog.
All the products are soft, durable and offer the ultimate in comfort and control. These stylish dog leads and accessories are of the highest quality and they are stylish too.
The Zero Shock dog lead is available in 25 inch or 48 inch length and features a strong but comfortable neoprene lined handle. The 48 inch lead features an extra 'Traffic Control' handle for when you need close control.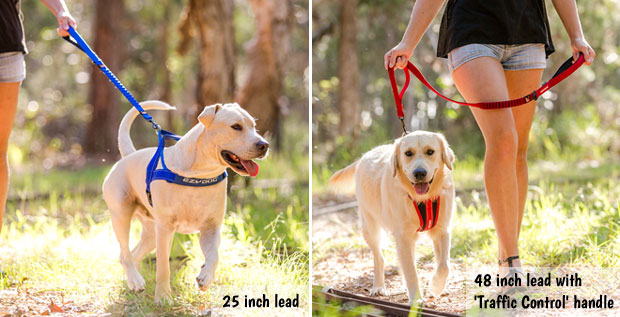 The Zero Shock lead extension can be clipped onto any dog lead, adding extra length and also EzyDog's amazing Zero Shock properties.
The Zero Shock coupler allows you to easily walk two dogs on one lead and also makes use of the shock absorbing bungee system.
Yes, the entire range incorporates this bungee-like Zero Shock™ technology to protect you both against those sudden jolts.
Enjoy
View the entire range at Speciality and Active Dog Collars and Leads.