Guide to Buying a Memory Foam Dog Bed
5 Comments
Wednesday, 20 March 2019 |
D for Dog
In the past, orthopaedic and memory foam dog beds were difficult to find and marketed almost exclusively for dogs with specific issues such as arthritis, joint or hip pain. Even in the human arena, these types of mattress were mostly the domain of the rich or those in need of specialised or orthopaedic care.
Over the years, more and more of us are waking up to the comfort of memory foam (excuse the pun). As more products have become available, the prices have become more affordable. That's great news for us dog owners. Many of us already make use of the comfort of memory foam for our own beds and now we have affordable options to provide that comfort for our pets too.
Before we talk about what to look for when buying a memory foam or orthopaedic dog bed, let's look at why our pets might need one.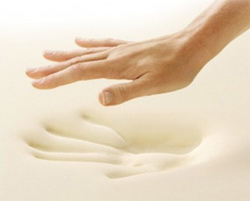 Does my dog really need it?
Without doubt a good quality memory foam bed can ease the pain and discomfort of dogs suffering with stiffness, joint or muscular pain.
But that doesn't mean they should only be used in medical cases. Any dog can benefit from the comfort it provides, especially older dogs, overweight dogs, restless sleepers and dogs who never seem to be able to get comfortable. We can all feel a little seized up in the mornings and dogs are no exception. Memory foam beds can give any dog the best sleep ever, whatever their age or physical condition.
How does it work?
Memory foam differs from traditional bed bases and standard foam in that it is able to respond to the shape and weight of your dog, virtually eliminating all pressure points. Because it moulds so perfectly to the specific body shape of your own dog, this allows their joints, muscles, spine and entire skeleton to rest in the most natural sleeping position for them. No pressure points means reduced pain, less discomfort and no more restless nights.
Are there any other benefits?
It also responds to your dog's body temperature, providing a more temperature controlled sleeping environment. That should mean less overheating in the night and less throwing themselves onto the cooler floor.
It is, of course, pressure sensitive. We already discussed the comfort benefits of that but it also helps in alleviating pressure sores and even ulcers, which can be so painful when resting.
What do I need to know before I buy?
The quality of the foam is very important. A higher density offers the best support. Equally important is the depth. This is often overlooked, which is a great shame as the benefits of the memory foam will be negated if it is not thick enough.
So, when deciding which memory foam (MF) dog bed or mattress to buy you need to find out the thickness of the actual MF layer on the bed you are planning to purchase. When asking about the depth, make sure you understand how much of that depth is actual MF. If a foam base is also added to the bottom, which is fine, ask how much of the thickness is actually MF and how much is standard base foam.
As a rough guide, dependent on factors such as the quality of the foam being used, the weight of the dog and the amount of orthopaedic support required, you should be looking for certainly no less than 5cm of actual MF (Visco or D 40 to 60). Dogs over about 12kg may need more MF depth than that and possibly even the addition of a foam base to support their weight. A memory foam depth of 10cm is a good general guide for most dogs but heavy or giant breeds may need more support or at least the addition of a foam support base.
Your dog's new memory foam bed should be treated as an investment so it is always a good idea to check whether the bed of your choice comes with any kind of inner liner (preferably removable and machine washable) to protect the foam inside. If your dog is elderly or slightly incontinent or has just had any kind of surgery, you might also like to make sure the liner is waterproof. A zipped outer cover is also a must, as you can't put, or probably even fit, a memory foam mattress into your washing machine.
We recommend
The Luxury Memory Foam Dog Bed by Daisy Elliott is a big favourite at D for Dog. With a good quality 40D solid 10cm memory foam mattress, zippered outer and inner covers and the addition of bolster sides to give a safe and comfortable lounger bed, it really does tick all the boxes.
It even comes with a 30 day sleep guarantee, so confident we are that your dog will love it. Woof! Find out more here.
Crumb or solid foam?
Solid foam and crumb each have their benefits and their uses. A quality crumb filling is good at trapping pockets of air. This increases the volume without increasing the density and helps regulate temperature and eliminate uncomfortable hot spots. It's an affordable option if your dog doesn't have joint, pain or skeletal issues but a solid MF layer has more orthopaedic and comfort benefits.
Alternatives
Another option for orthopaedic support is a special mattress like the Berkeley Orthopaedic Dog Mattress which has an individually pocket sprung construction. Thick layers of wool felt and cotton offer orthopaedic comfort and support for your dog, ensuring even weight distribution and an incredibly comfortable and pain free sleep.
Size and shape
Finally you will be wondering what size and shape of bed to purchase. For help with this please see our How To Select The Perfect Dog Bed guide. Providing your dog with enough space to stretch out and rest comfortably on their new bed is a must.
Hopefully you are now feeling more informed than ever, which is important with these higher end purchases. If you have any questions about our range of orthopaedic and memory foam dog beds please do ask. We are more than happy to talk you through the options and answer any questions you might have.
Happy shopping and we wish your dog many comfortable nights.
By Jenny Prevel
© D for Dog www.dfordog.co.uk
This article belongs strictly to D for Dog and we do not authorise the copying of all or any part of it.
| | | | | | | |
| --- | --- | --- | --- | --- | --- | --- |
| | | | Berkeley Orthopaedic Dog Mattressfrom: £139.00 | | | |