12 Days of Christmas - Prize 5
14 Comments
Tuesday, 28 November 2017 |
D for Dog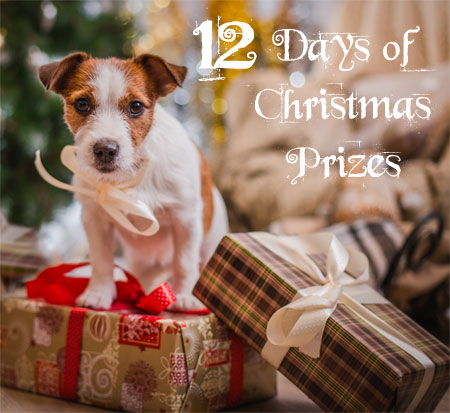 Christmas is on its way so let's celebrate with a D for Dog 2017 Christmas give-away.
'12 Days of Christmas Prizes' runs from 22nd November until 10th December. During that time a door will open on random days on our 12 Days of Christmas Prizes festive calendar, revealing a prize to be won.
Click to view the 12 Days of Christmas Prizes festive calendar.
A new door will open maybe every day, maybe every other day. Who knows what Santa Paws has up his sleeve.
Keep checking back as you never know when a prize will finish and a new door will open.
Today's prize
Today's prize is a festive Personalised Christmas Dog Bandana to give away to five lucky winners.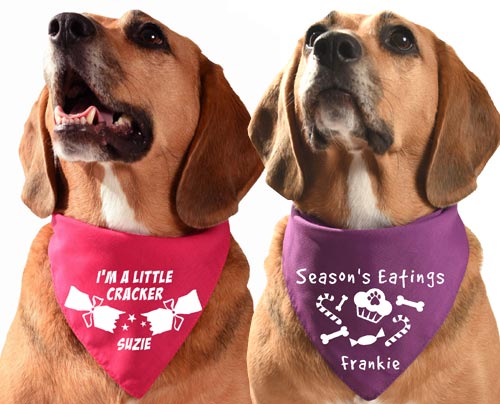 These bandanas are so cute and personalised with your dog's name. The perfect way for your dog to join in the fun. Sure to bring lots of smiles on your Christmas day dog walk.
Choose from a lovely range of colours and four great designs - "Yappy Christmas", "Santa's little helper", "I'm a little cracker" or "Season's Eatings".
Available in 3 sizes to fit most dogs as they can be folded over easily before being tied at the neck. Can be worn at the front, side or back of the neck.
Find out more here Personalised Christmas Dog Bandana.
Sizing
| | | |
| --- | --- | --- |
| Size | Top Length | Breed Guide |
| Teeny | 44cm | Chihuahua, Miniature Dachshund |
| Regular | 71cm | Jack Russell to Labrador |
| Jumbo | 84cm | Large German Shepherds, Mastiffs |
Let's play
This prize has now ended, which means a new prize will open soon... but only Santa knows when. Click to view the 12 Days of Christmas Prizes festive calendar and play for more prizes.
And the winners are...
drum roll.....
Julie Bissett from Dumbarton
Hayley Groves from Thame
Ian Bellamy from Kettering
Kieran Walsh from Epping
Anthea Holloway from Dorset
Congratulations everyone