Create a Tapestry of your Dog
Wednesday, 31 January 2018 | D for Dog
Last week the Sewing Quarter featured the Your Dog Photo Tapestry Kit.
Simply choose your favourite photo of your dog and with these fabulous kits you can make your pet's photo into a wonderful tapestry to keep and treasure forever.
These unique tapestry kits allow you to easily create a tapestry of your very own dog to keep or choose a friend's pooch to give as a wonderful and original gift.
With full instructions and everything you need to finish your tapestry included in the kit, even a complete novice can enjoy this satisfying craft.
There are 3 kit sizes to choose from - a small 5 x 7 inch printed canvas for one pet or the larger 8 x 10 inch or 10 x 10 inch canvas for two pets or people.
Your kit arrives completely ready to make with a printed canvas clearly showing which colour to stitch where and all the wools you will need, in the colours your particular tapestry requires.
On the Sewing Quarter, Eliot explains all about the kits, how to choose the best photo and even how to complete your tapestry. Well worth a watch.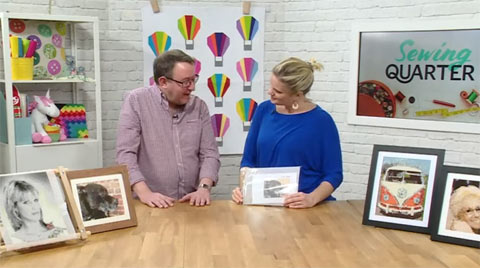 Watch a shortened clip of the video below.
Get your kit here Your Dog Photo Tapestry Kit. Also available as a fabulous Your Dog Photo Tapestry Cushion Kit