Crufts and Scruffts 2020
10 Comments
Monday, 24 February 2020 |
D for Dog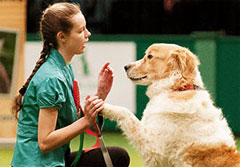 Crufts, the world's largest dog show, takes place from 5th to 8th March 2020 at The NEC, Birmingham.
Crufts 2020 Schedule
Thursday 5th March - Toy and Utility
Friday 6th March - Gundog
Saturday 7th March - Working and Pastoral
Sunday 8th March - Terrier and Hound
Crufts tickets are now on sale. Visit http://www.crufts.org.uk/
Discover Dogs at Crufts
There is also a Discover Dogs area at Crufts, hosting over 200 breeds of dog for you to meet. Talk to their knowledgeable owners and breeders. Gain first hand advice on grooming, training and whether the breed is right for you.
Scruffts at Crufts
Scruffts is the nation's favourite crossbreed competition (a dog whose parents are of two different breeds or a mixture of several breeds). Heats are held throughout the year around the country, in search of crossbreeds with that extra special something.
To find out more about entering Scruffts, visit http://www.crufts.org.uk/content/whats-on/scruffts/