Crufts and Scruffts 2019
10 Comments
Tuesday, 12 February 2019 |
D for Dog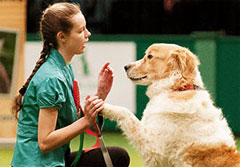 Crufts, the world's largest dog show, takes place from 7th to 10th March 2019 at The NEC, Birmingham.
Crufts 2019 Schedule
Thursday 7th March - Gundog
Friday 8th March - Working and Pastoral
Saturday 9th March - Terrier and Hound
Sunday 10th March - Utility and Toy
Crufts tickets are now on sale. Visit http://www.crufts.org.uk/
Discover Dogs at Crufts
There is also a Discover Dogs area at Crufts, hosting over 200 breeds of dog for you to meet. Talk to their knowledgeable owners and breeders. Gain first hand advice on grooming, training and whether the breed is right for you.
Scruffts at Crufts
Scruffts is the nation's favourite crossbreed competition (a dog whose parents are of two different breeds or a mixture of several breeds). Scruffts 2018 attracted over 1,200 crossbreeds and their owners, but just six have made it all the way, winning a place in the final at Crufts for the Scruffts Family Crossbreed Dog of the Year final.
Most Handsome Crossbreed Dog: Teddy the Shih Tzu cross, owned by Tara Ellison from East London
Good Citizen Dog Scheme: Maple the Golden Retriever cross, owned by Nikki Davis from Cornwall
Golden Oldie Crossbreed: Zak the Border Collie cross, owned by Jazmine Green from Surrey
Prettiest Crossbreed Bitch: Primrose the Lurcher, owned by Susan Herbert from East Gloucestershire
Child's Best Friend: Ernie the Cavalier King Charles cross, owned by Elodie Baker from Gloucestershire
Best Crossbreed Rescue: Percy the Pointer cross, owned by Amanda Bell from South Yorkshire
To find out more about entering Scruffts, visit http://www.crufts.org.uk/content/whats-on/scruffts/