Dog wound and skin protection - we've got it covered
17 Comments
Thursday, 17 October 2013 |
D for Dog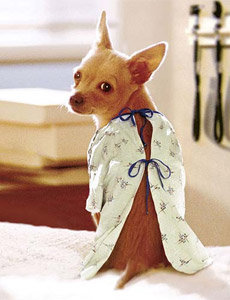 If your dog has a wound, injury, skin condition or allergy, is recovering from an operation, suffers with incontinence or needs protection when in season, fear not - we have it covered.

We have a range of products for almost every eventuality where healing or protection is required. As we have recently added some new products to our range, now seems like a good time to explain some of the protective items we sell and how they can help your dog in their time of need.

Protective Shirts

Medical Pet Shirt




This incredibly useful and innovative body vest protects the dog's torso from the neck to the base of the tail. It is perfect for torso and belly post-operative care and to protect stitches, wounds, skin conditions and even allergies. As it fastens around the dog's rear end, it is also useful after a neutering operation, when a bitch is in season and for incontinence.

From the people behind the bestselling Medical Pet Shirt, we also sell the Protective Topshirt.

Protective Topshirt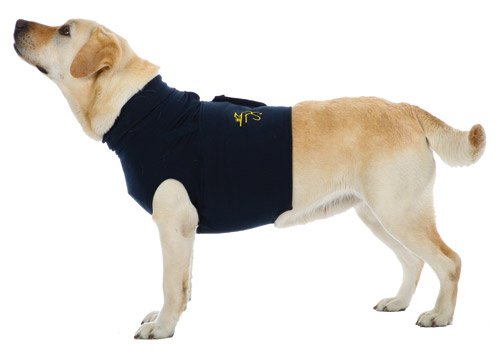 Whilst the original shirt provides full torso and belly protection, the shorter Topshirt is a protective covering for the top to middle part of your dog's body. It offers protection to the upper torso after operations or for injuries, wounds and skin conditions.

Both of the shirts mentioned above allow your dog freedom of movement whilst also protecting them. The gentle pressure they exert when worn can also reduce fear at times of stress after an operation and can also help the dog to stay warm (anaesthetic can cause body temperature to drop).

Recovery Collars

Traditional 'buster-type' medical collars can be restrictive and cumbersome but sometimes recovery collars are the best way to stop a dog getting to a certain part of their body. Luckily the hard plastic cones of days gone by are not the only option. The Trimline is a soft, flexible and lightweight alternative.

Trimline Recovery Collar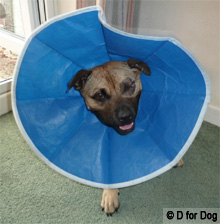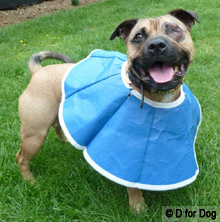 Because it is flexible, the Trimline allows your dog to eat, drink and sleep in comfort whilst still providing a barrier to the treatment area. It can be worn the lampshade way or, depending on where the site of injury is, can be worn down over the body.

Leg Covers

Front Leg Protective Sleeves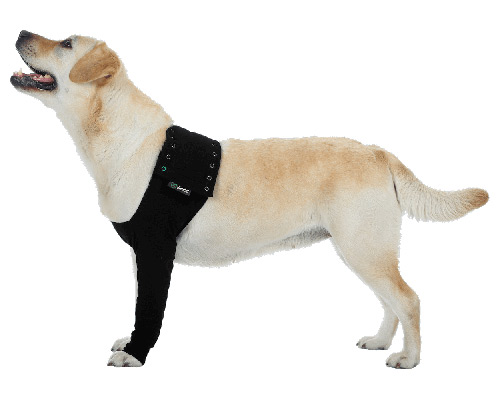 These protective sleeves can be worn on the dog's left or right front leg or you can get the double sleeve for both front legs. They are a protective covering for leg wounds, stitches or bandages after an operation. These can also be used for leg injuries, skin conditions, allergies etc. Reduces the need for cumbersome Elizabethan lampshade and recovery cones and helps the dog to retain their freedom of movement.

Back Leg Protective Sleeves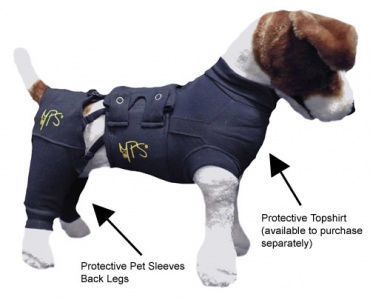 As above but specifically designed for the anatomy of a dog's back leg. Supplied as a pair (left and right hind legs) and must be purchased along with the Protective Topshirt to keep the sleeves in place.

Paw Covers

Dog Paw Covers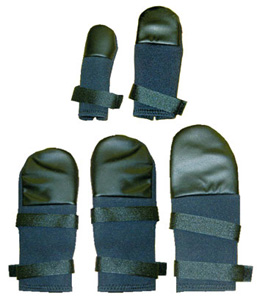 Another useful piece of kit is the indispensable paw cover. Dogs often damage and injure their feet and pads when on their various adventures. Even a small cut on a dog's pad can lead to persistent bleeding. We recommend having one of these protective paw covers in your dog's medical kit.

Paw covers can thwart your dog's attempts at licking and foot chewing whilst also protecting your floors and furniture from spots of blood from paw injuries.

Deterrent Sprays

Stop 'Em Chew and Lick Repellent




If your dog persists in chewing or licking, try an anti-chew spray. These sprays are often bitter tasting and designed to discourage dogs from obsessive or destructive chewing and licking. Stop 'Em Chew and Lick Repellent is a harmless yet powerful taste deterrent containing Bitrex® - the world's most bitter substance.

By Jenny Prevel

© D for Dog www.dfordog.co.uk
This article belongs strictly to D for Dog and we do not authorise the copying of all or any part of it.


Suitical Dog Recovery Vestfrom: £17.70

Protective Pet Sleeve - Front Legfrom: £19.60

Protective Topshirt for Dogsfrom: £21.55

Protective Pet Sleeve - Back Legsfrom: £20.75

Trimline Recovery Collarfrom: £6.40

All Road Protective Dog Bootsfrom: £31.99

Dog Paw Coverfrom: £5.45

Dog Rash Vestfrom: £17.00