Dog Treat Baking Kits
Wednesday, 6 June 2018 | D for Dog
Have you ever wanted to make fresh, homemade treats for your dog but you don't have the time, ingredients or any suitable recipes? Fear not, we have a fun and simple solution to make freshly baked dog treats at home in a jiffy.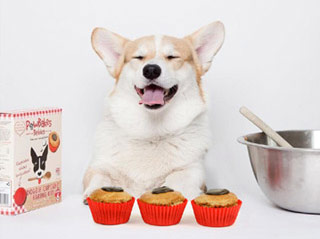 Fun to make and your dog will love them.
Only the finest ingredients are used in these kits. They are a healthy, home-baked option for any doggie.
With these kits you can avoid questionable ingredients and ensure safe, fresh treats for your dog.
Quick, healthy, home made and fun
Simply follow the step-by-step instructions for fresh from the oven, home-baked dog treats with no added nonsense.
Ready in less than 30 minutes.
The only thing better than smelling them baking is eating them, lol.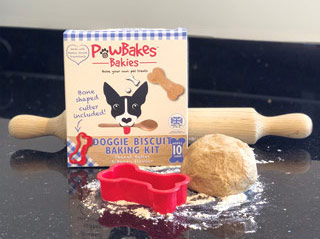 These award-winning Paw Bakes kits contain everything you need to bake yummy dog biscuits or cupcakes. Perfect as a treat, celebration, birthday or just to say 'I love you'. Woof!
Made in the UK by dog lovers and approved by pets.
So get your bake on or why not buy a kit for a dog loving friend. These kits are also a great activity for children.
Dog Biscuit Baking Kit
Makes 10 large delicious peanut butter and honey dog biscuits.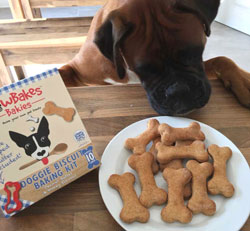 Click here to find out more Dog Biscuit Baking Kit.
Dog Cupcake Baking Kit
Makes 6 delicious peanut butter cupcakes with dog-friendly choc drop topping.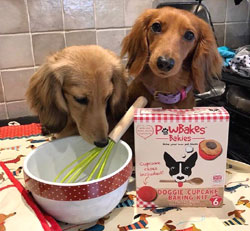 Click here to find out more Dog Cupcake Baking Kit.
Enjoy