EzyDog is Pretty in Pink
1 Comment
Saturday, 11 January 2020 |
D for Dog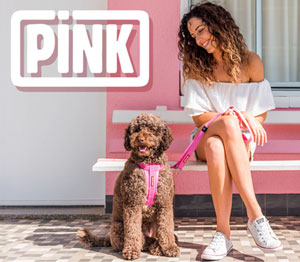 With pink back in fashion in a big way, we were thrilled when EzyDog introduced their new pink colourway this week.
Not pale pink, baby pink or hot pink... just the pinkest of pink.
EzyDog are famous for their durable, sturdy and reliable dog accessories. With their fail-safe dog collars, secure harnesses and shock absorbing leads, walkies are even more fun than ever.
From city life to country adventures, EzyDog is dedicated to providing high quality accessories that help us all live an active and outdoor life with our dogs. Their beautifully designed products promote the fun and play that dogs love and feature the comfort and style pet owners prefer.
And with this gorgeous new colour, your dog can strut her stuff in style... pretty in pink.
Pink Dog Collars
EzyDog make two types of dog collar. The first is their original Neo Dog Collar. The neoprene construction makes it weatherproof, sporty and super durable. This chunky dog collar looks amazing and is easy to clean, quick to dry and is also waterproof.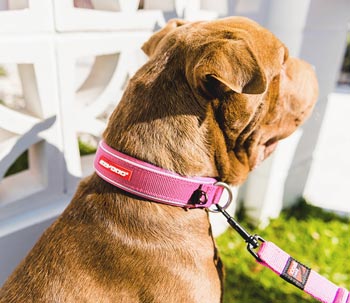 Then there is the EzyDog Double Up Collar, which takes security to a new level. Have you ever worried that your dog's collar buckle could fail? The Double Up collar puts those fears to rest. The innovative design features a buckle plus two D-rings to secure the closure. Now that is clever.
Pink Dog Harnesses
The EzyDog Chest Plate Harness features a supportive plate at the front which spreads the load for maximum comfort. Each purchase also includes a detachable dog seat belt for car travel. Your dog can be safer in the car with the minimum of fuss.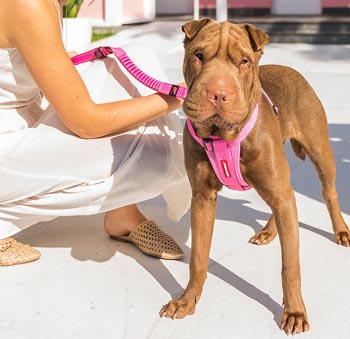 Or try their Quick Fit Harness which has been designed specifically to provide a solution for dogs who are uncomfortable with the process of having a conventional harness taken on and off. Woof!
Pink Dog Leads
Inventors of one of the original bungee leads, the Zero Shock Dog Lead is perfect if you have a large, strong or enthusiastic dog who jerks and pulls on the lead. The elasticated bungee technology of the Zero Shock lead dramatically reduces the strain on the dog and owner by protecting against sudden jolts. Available in 25 inch or 48 inch length.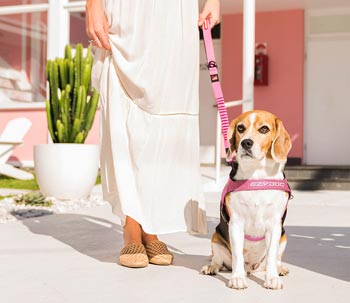 The Zero Shock LITE Dog Lead is also available for smaller dogs. It retains all the famous EzyDog durability, comfort and high function but is specially designed for dogs under 10kg.
Last but by no means least, there is the Vario 6 Multi-Function Dog Lead which can be used as a 5 foot lead, 3 foot lead, for dual dog walking, hands free walkies and more.
So there we go - that is the new pink colourway, added this week to the EzyDog range of dog collars, leads and harnesses. You can view the whole range here EzyDog.