EzyDog in Cool Grey
Thursday, 2 September 2021 | D for Dog
EzyDog have added a new grey colour to many of their product ranges. It is so cool. Grey is bang on trend and looks great against many fur colours. Woof!
EzyDog are famous for their durable, sturdy and reliable dog accessories. With their fail-safe dog collars, secure harnesses and shock absorbing leads, walkies are even more fun than ever.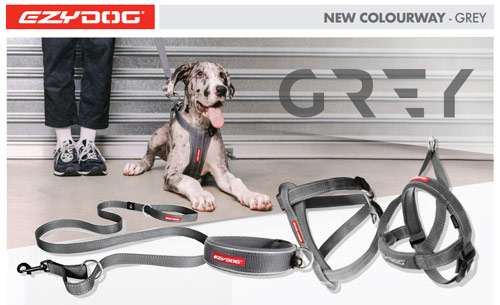 From city life to country adventures, EzyDog is dedicated to providing high quality accessories that help us all live an active and outdoor life with our dogs. Their beautifully designed products promote the fun and play that dogs love and feature the comfort and style pet owners prefer.
And with this gorgeous new cool grey colour, your dog can strut their stuff in style.
New Grey Dog Collars, Leads and Harnesses
EzyDog Neo Dog Collarfrom: £15.50

EzyDog Double Up Collarfrom: £15.50

Zero Shock Dog Leadfrom: £22.00

EzyDog Chest Plate Harnessfrom: £22.50

EzyDog Quick Fit Harnessfrom: £22.50

Vario 4 Multi-Function Dog Leadfrom: £21.00
So there we go - that is the new grey colourway, added this week to the EzyDog range of dog collars, leads and harnesses. You can view the whole range here EzyDog.