FREE Travel Bowl with every Float Coat
Tuesday, 10 July 2018 | D for Dog
During the last 2 weeks of July (Monday 16th July - Sunday 29th July 2018) we are giving away a free Ruffwear Quencher dog travel bowl worth up to £21.95 with every K-9 Float Coat purchase. Yay.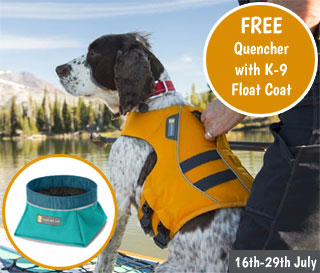 Whether you and your dog enjoy an amble round the lakes, a boating adventure or invigorating water sports, a dog life jacket is an essential piece of kit. We love the Float Coat by Ruffwear. It is light and comfortable for your dog and could save their life.
The K-9 Float Coat can help dogs gain water confidence but it is also useful for even the strongest swimmers. In the event of an accident, your dog will be more visible, will be easier to rescue and the Float Coat will help them stay afloat if they are injured or too tired to keep swimming.
This fully-featured dog life jacket is made with time-proven, abrasion-resistant materials. The strategically placed closed cell foam panels allow your dog to swim in a natural position. The strong, low-profile handle on the back of the life jacket is optimally positioned to help dogs out of the water.
Float Coat also features reflective trim for low light visibility and two adjustable body straps to prevent the dog from slipping out of the life jacket. The back of the life jacket also has a loop to attach a safety light and a D-ring for connecting your dog's lead.
Quencher Original or Cinch Top is a collapsible, waterproof travel dog bowl by Ruffwear. It is completely waterproof and is suitable for holding dog food or water. Lightweight and durable, it can easily be taken with you on all your adventures, holidays and travels. The bowl collapses flat for easy carrying, packing and storage. A loop on the back makes it easy to attach it to your belt or bag for hands free carrying.
The original Quencher has a standard open top or you can choose the Quencher Cinch Top which features a drawstring closure that will stop kibble from falling out. Perfect for feeding and temporarily storing dry dog food.
Find out about K-9 Float Coat Dog Life Jacket and visit that page to grab a free Quencher dog travel bowl during the last 2 weeks of July.