Funny Dogs Having Water Fun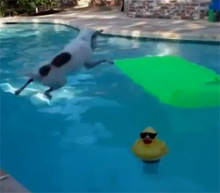 It is lovely to see dogs having fun in the water when the weather is hot.
Some of these lucky pooches have swimming pools to play in and even water slides while others have their very own paddling pools to splash about in. We had to laugh at the large dog who tried to get in a bucket - sweet.
However they get to water, you can be sure fun and laughter is likely to follow. Enjoy