How to Get Dog Related Legal Advice
17 Comments
Tuesday, 14 April 2015 |
D for Dog
If you need dog related legal advice or help, who can you turn to? Dog law can be an incredibly complicated and niche area. You never know when a situation might occur that requires specialist help. We look at how and where to get specialist dog law advice.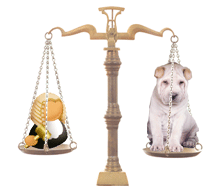 Your dog may accidentally damage property or injure someone, be accused of nuisance behaviour or of being out of control. You may have an issue with a breeder, vet or other professional, be part of an ownership dispute or caught up in the Dangerous Dog Act.
The laws relating to dogs are complicated and changing all the time. Animal law is a relatively new and growing aspect of the law. An increasing number of lawyers now specialise in cases involving animals.
If you need dog legal advice, there are a number of specialist services available that you may find useful.
Dog Law
This is an invaluable service from Cooper & Co Solicitors, who are specialists in dog law. Dog Law specialise in advising dog owners in both criminal and civil cases. They cover the whole of England and Wales.

The service is friendly, fast and most importantly, accurate. They have a number of useful articles and videos plus a telephone advice line.

Dog Law will provide you with preliminary legal advice and from there you can decide if you would like to instruct them to represent you in any proceedings.

Wheldon Law

Criminal Defence Solicitors who are dog lovers and many are dog owners. They understand that dogs are part of the family. They have an intimate knowledge of this complex area of law and work closely with a dedicated team of expert witnesses to ensure the best possible outcome for owners and their dogs.

If your dog has been seized or if you have been charged or summonsed to attend court, you can telephone them on 01442 242999 for a free 15 minute telephone consultation.

http://wheldonlaw.co.uk/dog-law-solicitors

Law on the Web

A general legal website for the UK, Law on the Web has a section regarding animal law. They understand the complex and confusing laws concerning animals. Topics covered include dog ownership laws, dangerous dogs, pet liability laws, dog bites and dog control orders.

If you need legal advice on any of the topics mentioned, their Instant Law Line service may help. This service, provided by DAS, can give you access to legal advice over the phone from a qualified legal adviser for a low price.

https://www.lawontheweb.co.uk/legal-help/animal-law

The Equine & Animal Lawyers Association

This is the Association for Legal Executives, Solicitors, Barristers and Expert Witnesses who work in the field of animal law. It is a high-profile, strongly academic organisation in the animal world, and the immediate point of reference for anyone with animal law concerns.

They have a free public animal law help line. Tel 01469 531742

http://www.animallawyers.co.uk

Justice for Dogs

Born from her passion for all things canine and using her background in the legal profession, Ann Harpwood started Justice for Dogs. The charity fights for the rights of dogs and dog owners and gives advice regarding laws, legislation and other legal matters that are canine related.

Membership to Justice for Dogs is a small annual fee. You will be entitled to legal advice, specialising in canine cases. A donation is usually requested when legal work is carried out. For more information tel: 01544 370213

Company of Animals Legal Advice

Dr Mugford and associates are renowned amongst the legal profession and have developed a particular knowledge and reputation as expert witnesses on animal law. They also have a page of recommended solicitors experienced in dog law.

http://companyofanimals.co.uk/dog-training-and-animal-behaviour-centre/legal-advice

We hope you have found this information useful. Bookmark this page as you never know when you may need specialist help in dog law.

Please DO NOT contact D for Dog about any of these services. If you need legal advice please contact the organisations listed above.

Disclaimer - D for Dog do not necessarily endorse or otherwise any of the services listed.

By Jenny Prevel



© D for Dog www.dfordog.co.uk
This article belongs strictly to D for Dog and we do not authorise the copying of all or any part of it.