Have You Discovered EzyDog Yet?
4 Comments
Monday, 19 May 2014 |
D for Dog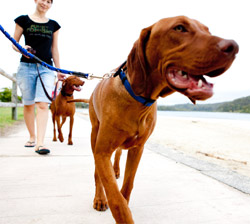 I have to say I love EzyDog products. I have been using them on my dogs for years now (D for Dog were one of the first UK retailers of EzyDog products). But the thing with internet shopping is how do we show the customers how amazing these products actually are?
Well, the best way is via product videos. That way you can see how a harness works and fits, how sturdy the collars are and how innovative the leads are. You can clearly see that the EzyDog range is safe and reliable, as well as looking pretty good too.
EzyDog products are great for sporty dogs but if your dog is not really the adventurous sort, don't pass the range by. You don't have to go bungee jumping with your dog (God forbid) to make use of EzyDog products. With their secure harnesses and shock absorbing leads, any dog's walkies can be greatly enhanced.
For example, I use an EzyDog harness and lead on my terrier, Berkeley, because he pulls and lunges on his lead. I know he is safe in his Chest Plate harness and I can save myself some arm strain with the shock absorbing lead. Perfect.
So anyway, I was talking about videos. EzyDog have updated some of their product videos recently. They are a big improvement and really help you to see the products and what they can do. Enjoy
EzyDog Chest Plate Harness
Available here EzyDog Chest Plate Harness
EzyDog Quick Fit Harness
Available here EzyDog Quick Fit Harness
EzyDog Neo Collar
Available here EzyDog Neoprene Collar
EzyDog Double Up Collar
Available here EzyDog Double Up Collar
EzyDog Zero Shock Lead
Available here EzyDog Zero Shock Lead
EzyDog Cujo Lead
Available here EzyDog Cujo Dog Lead
EzyDog Vario 4 Multi-Function Lead
Available here EzyDog Vario 4 Lead
EzyDog Life Jacket (Doggy Flotation Device)
Available here Dog Life Vest