New Flagline Dog Harness by Ruffwear
Friday, 11 October 2019 | D for Dog
The new Ruffwear Flagline harness combines all the features you ever wanted into one amazing multi-functional dog harness.
It fits your dog across three points of their body meaning this harness gives a comfortable and secure fit for all dog shapes plus a design that no dog can back out of, which is great news if you have a harness escape artist on your hands.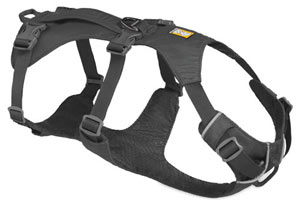 One thing I am really into since we adopted a German Shepherd who likes to pull me all the way to the park is using a double ended training lead to gain more control over the dog when on lead. So I was thrilled to see that this harness has 3 lead attachment points. Wow. There is an aluminum V-ring on the back to use as standard plus two reinforced webbing loops - one on the front and one on the rear of the harness. The front lead attachment point allows you to use a double-ended lead with this harness - perfect for dogs who pull on lead or career all over the place.
If you are interested in purchasing a multi-function training lead for more on-lead control, find out more here Double-Ended Multipurpose Dog Lead. I absolutely love mine when teamed with a harness that has a lead attachment point on the front.
You would think with all this security and functionality that this harness might be bulky or heavy for your dog to wear but no - it is lightweight and incredibly soft and comfortable for your dog. Woof!
Another thing I love on a dog harness is a grab handle and Flagline has that too. It helps if you need to grab your dog quickly or hold them back in certain situations. Along with the handle it has a load-dispersing chest/belly panel so you can also use the handle for lifting and assisting your dog.
This harness is incredibly adjustable for the perfect fit. To choose the best size simply take your dog's girth measurement.
Features
Numerous adjustment points for the perfect fit
Innovative and secure 'no escape' design
Lightweight and comfortable to wear
Puts you back in control
Front lead attachment point for no-pull
Grab / assistance handle
Load-dispersing chest/belly panel for lifting and assisting
Engineered and manufactured to the highest standards
Perfect for all dogs on daily walks or adventures
Finally, Ruffwear fans will already know that the brand is engineered and manufactured to the highest standards so your dog is always safe in their hands. All Ruffwear products are rigorously tested and guaranteed against defects in materials and craftsmanship.
I am getting one of these Flagline harnesses for my three-legged German Shepherd as soon as possible, and that is a fact. Because of her missing front leg, standard harnesses always end up around her neck. This fuller body fit is going to be perfect for her. She also pulls on the lead when she gets excited so the front lead attachment point on this harness is a must.
To purchase or find out more, visit Ruffwear Flagline Dog Harness.