Noodle Glove Dog Towel Wins BBC1 TV Show
5 Comments
Friday, 3 May 2019 |
D for Dog
We were excited to see the Henry Wag Noodle Glove Dog Towel featured on BBC1's "The Customer Is Always Right" TV show. During the show, three innovators witness their products being tested and evaluated by a cast of five celebrity and everyday customers from across the UK.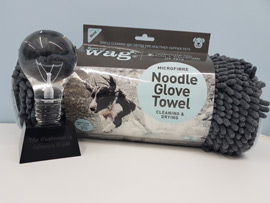 Various products were tested in a range of real life scenarios and then judged for price, innovation, design and usability.
And the winner was... yes... the Henry Wag Noodle Glove Dog Towel.
Big congratulations to the designer and creator of the Henry Wag brand and this innovative dog towel, Grant Rogers. During the making of the show the TV film crew visited Grant at his home in the Beautiful Wye Valley to understand the story behind the creation of the product.
"Living in the country presents its own challenges for dog owners. Dirt and water are a fact of life and can be a barrier to regular exercise," commented Grant. "I set out to create a range of products to remove these barriers so enabling regular exercise for dogs and owners and the building of closer relationships."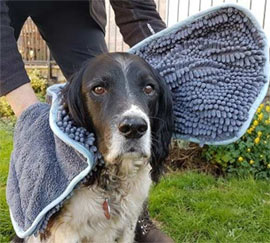 This highly absorbent microfibre towel features gloved ends for greater control of the dog and the towel during drying. It features a fronded 'noodle' side for maximum cleaning and absorption and a woven side to groom the coat.
Microfibre and the noodle design absorbs more water and dries more quickly than regular towelling. Soft, light and absorbent, these glove towels are a quick and efficient solution to wet and dirty dogs.
To watch the show visit BBC iplayer The Customer Is Always Right (Episode 10, 3rd May 2019).
To purchase the winning product, visit Henry Wag Noodle Glove Dog Towel.
To view the entire Henry Wag range on D for Dog, visit Henry Wag.