Are Your Dog's Toys Orbee-Tuff Enough?
Sunday, 7 February 2016 | D for Dog
This Christmas I bought a load of Planet Dog Orbee-Tuff toys for my two dogs and I was so impressed I just had to have them on D for Dog. My dogs had hours of fun with them and the range really is quite innovative, which is just what I was looking for. My dogs have got loads of toys and I wanted something a bit different.
So let me tell you about them.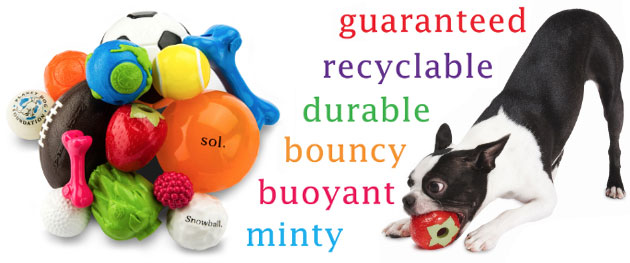 They loved the Mazee Ball and also Snoop. What I liked about these toys is that they are both really soft, which meant quiet games indoors. In fact quite often I would look around for my dogs only to find they had both vanished off to play some more with their new puzzle toys.
Both these toys are treat toys and lets face it most dogs, mine included, love nothing better than working for a reward. All the Orbee-Tuff toys are incredibly durable (each has a chew rating) and they are strangely minty too. Your dog won't be able to resist.
Snoop
Snoop is such a strange shape, I don't think you or your dog will have ever seen anything like it. Not a ball yet definitely not static when nudged, it doesn't give up its treasures easily. One of my oldies found it too difficult so I popped it inside out to make it a little easier for her and off she went, having a blast. Berkeley, persistent as ever, was happy to play with the toy in its intended shape and went back often for another go.
One thing I didn't try, but would have if I had known about it at the time, was how to make Snoop even more of a tease. Simply plug the hole with a 2.5" toy for twice the fun. Nooks are perfect for this and can even be stuffed in their own right.
Find out more here - Snoop
Mazee
Mazee is nothing like a standard treat ball apart from in shape. The outer shell is surprisingly soft and very pliable. Inside is a harder maze, which stops the treats coming out too quickly from the hole. This toy provided hours of quiet fun. Yes, another quiet toy. Hallelujah!
Find out more here - Mazee Ball
Cosmos
Wow, these balls and soft, squashy and loads of bouncy fun. For indoor or outdoor play, the texture really is out of this world. Darcey loved the texture and minty smell. Berkeley tried and tried to pop his but to no avail. That's almost unheard of.
With balls it is very important to chose the size that is right for your dog. Small balls can be a chocking hazard. Cosmos comes in 3 sizes so there is something for everyone.
Find out more here - Cosmos
Fruit and Veg
These are almost too cute to give to the dog, but go on... they'll love it. I chose Strawberry for my two as it is a great size for them, but there is also a much smaller Raspberry (for tiny dogs) and larger ones such as carrot and eggplant (aubergine to us) for the big boys and girls.
Like all the Orbee-Tuff range, the texture and smell of these toys is so wonderful you might not even need to stuff one for your dog to enjoy a jolly good gnaw. Pop a few treats in to make it extra special.
Find out more here - Fruit & Veg
Soccer Ball
Finally and oldie but goodie. The Soccer Ball (what we would call a football) simply can't be faulted.
This isn't a toy my two had for Xmas. This was a toy we purchased for Berkeley many years ago and it is still going strong. I can't rate this highly enough for dogs who love a game of footie. It is tough and hollow, so can never be popped or punctured. Ever!
After years of watching Berkeley pop footballs in less than 30 seconds we gave up buying them for him until this toy came along. It's prefect.
Find out more here - Soccer Ball
Phew, I think I'll stop there but there are a few more toys in the range that I'll let you investigate for yourselves.
Before I go, what if your dog does wreck it or hate it? Don't worry, the Planet Dog guarantee is amazing. Read on...
The Planet Dog guarantee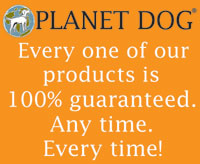 "If it is chewed, return it. If it is destroyed, return it. If it doesn't fit, return it. If the dog doesn't like it, return it. If you or your dog are not 100% satisfied for any reason, return it. Any time. Every time."
Now you can't get better than that.
So if your dog's current toys are not Orbee-Tuff enough, give these a try. You won't be disappointed.
View the new Planet Dog toys here Planet Dog or view our entire range of Dog Toys.
Happy playing everyone