FREE Ruffwear Quencher Dog Bowl
2 Comments
Friday, 29 July 2016 |
D for Dog
For the whole of August we are giving away a FREE Ruffwear Quencher dog bowl worth up to £19.95 if you spend £49.99 or more on Ruffwear products. Woof!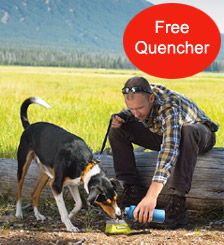 With a great range of Ruffwear high performance products to choose from, your pooch can be kitted out in only the best while you enjoy the saving you can make with this promotion.
Whatever outdoor pursuits you enjoy, from a walk in the park to backpacking, Ruffwear have utilised fabrics, hardware, materials and construction designed for the activities you and your dog love.
Collars
Ruffwear collars are so innovative, your only issue will be which one to choose.
The Hoopie Collar is the perfect everyday dog collar. Made from soft, durable Tubelok webbing in a range of eye-catching colours and designs. Or, if you are fed-up with searching for that elusive D-ring, how about the best selling Top Rope Collar which features a D-ring that can be positioned at the top of the collar for easier access.
But why have a standard dog collar when you can have the Knot-a-Collar. It is unlike any collar you will have seen before. The low-profile round rope design provides a clean and elegant solution, making this a fantastic every day collar or house collar. Made from strong and supple kernmantle climbing rope, it settles comfortably in short or long fur and reduces matting.
Leads
For amazing dog leads, look no further. One of my personal favourites is the Knot-a Carabiner Lead. Like the Knot-a-Collar, it is made from strong and supple kernmantle climbing rope but best of all there is a carabiner attachment point which securely fastens the lead to your dog's collar or harness. There is no way this is failing on you, which can happen with some standard trigger hooks.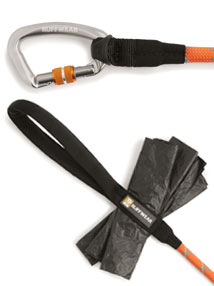 If you like a bit of hands-free dog walking or jogging, the versatile Roamer Dog Lead is a bungee stretch webbing lead that can be hand held or waist worn. Great for everyday walks or activities with your dog. The Flat Out is a 6 foot long webbing lead that can also be hand held or waist worn.
Harnesses
Every dog deserves a comfortable harness to go walkies in. It is an important piece of dog owning equipment, so check out these amazing harnesses from Ruffwear.
The Ruffwear Front Range Harness is the only dog harness you will ever need. It gives a perfect fit, is easy to put on and is incredibly comfortable for your dog to wear.
Then we have the best selling Web Master Harness with assistance handle for outdoor adventures, dogs with mobility issues or dogs who just need a little helping hand.
Walkies and Travel
Walkies and travel often require some pretty special accessories and you can't get much better than Ruffwear's range.
From travel bowls to Kibble Kaddies, you'll soon wonder how you got by without some of these handy items.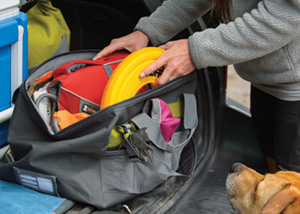 Top of my wish list is the Dog Haul Bag. It is the ultimate holdall for all your dog's essentials. It opens up like a doctor's bag and is a great way to organise, store and easily find everything your dog needs on their travels, from days out to weekends away and holidays.
The Beacon is a high-intensity LED light for incredible visibility. It is bright, sturdy, small, lightweight and watertight. An autumn/winter must have.
Grab Your Freebie
Finally, let's look at the freebie we are offering in this promotion.
The Quencher Original or Cinch Top Travel Dog Bowl is lightweight and durable - perfect for your dog's food or water on the go. Of course it collapses flat for easy carrying, packing and storage. Choose from the original Quencher with standard open top or Quencher Cinch Top which features a drawstring closure to stop kibble falling out. Love it.
Spend £49.99 or more on any of these Ruffwear products to receive your FREE Quencher Travel Bowl.
Simply add the Ruffwear products you would like to your basket and as soon as you reach £49.99 or over, the Quencher Travel Bowl will be added to your order for free. Then simply pick what colour, size and style of Quencher bowl you would like.
Only during August, so don't delay.
View the entire Ruffwear range.
Kibble Kaddie£42.95

Knot-a-Collar£21.95

Knot-a-Leash with Security Latchfrom: £32.95

The Beacon£26.95

Dog Haul Bag£74.95

Original Bivy Bowl£26.95

Quencher Original or Cinch Topfrom: £15.95