Rescue Dog of the Month
6 Comments
Friday, 14 December 2018 |
D for Dog
As keen supporters of rescue dogs and their plight, we really want to do our bit and try to get some of these very deserving dogs a home.

D for Dog is not a rescue but what we do have is a large audience of amazing dog lovers - all you good people. So we have teamed up with Battersea Dogs & Cats Home to bring you 'Rescue Dog of the Month'.
Battersea Dogs & Cats Home has three centres in South East England - the London centre in Battersea, Old Windsor centre in Berkshire and the Brands Hatch centre in Kent. They rehome animals throughout the UK as long as you are able to come and meet your prospective pet at one of their three centres.
This month we want to tell you about...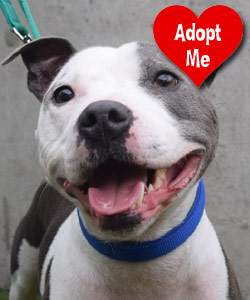 Name: Lucas
Breed: Staffordshire Bull Terrier
Sex: Male
Age: 6 years old
Centre: London
Reference: 365692
Lucas is a sweet dog but has some insecurities that he'll need ongoing training for in his new home. He loves nothing more than getting attention from his human friends but is a bit unsure with other dogs so his new owners will need to work on this with him.
Ideally, he would prefer a quiet and calm home environment. He is a real sweetheart and eager to please. He is a joy to have around – he just wants to find his perfect companion.
Please contact Battersea's London centre on 0843 509 4444.
Whilst we will put the spot light on one dog a month, you can see all the wonderful Battersea dogs here - Dogs for rehoming. Click on a photo to read more about any of the dogs.
If you are interested in giving any of the dogs a home, please contact Battersea Dogs & Cats Home directly. Please do NOT contact D for Dog. Thank you.