Ruffwear Dog Coat Comparison Guide
Friday, 28 February 2020 | D for Dog
Ruffwear have a dog coat, jacket or jumper for every eventuality, from cold and windy weather to sunshine and showers. But which is the best coat for your dog from their comprehensive range? This Ruffwear dog coat comparison guide will help.
Before we dive into the features of each coat, let's talk a little bit about what your dog needs from a coat. As well as taking into account the weather conditions, we need to think about your dog's specific needs.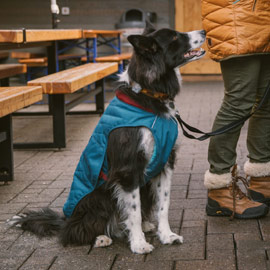 Warmth
If your dog feels the cold, go for an insulated or fleece lined coat for core warmth. If on the other hand your dog has naturally thick fur or races about and never feels the cold, a non-insulated option is best. You don't want them over heating on adventures.
Waterproof
Ruffwear coats, jackets and fleeces range from not being waterproof to being water resistant and able to cope with showery rain to being very waterproof and able to cope with downpours. Check out the guide below for each garment. Some dogs, especially if they have thin fur, are bothered by the feeling of rain and wet skin, so take that into account when choosing your dog's new coat.
Sleeves
Some of the Ruffwear range feature short front leg sleeves. These are great for more coverage, warmth and protection, especially for shorter haired dogs. Sleeveless is a good option for dogs with broader chests or shoulders, dogs who tend to chaff at the armpit or dogs who simply hate having a jacket put on as they are easier to fit.
With the right gear you and your dog will be ready to go outside whatever the weather. Woof!
Ruffwear Dog Coat Comparison
To help you make your choice, please see the summary table below and the comparison video of each coat, jacket and fleece. If that is a lot to take in or choose from, carry on reading for our recommendations.
| | | | | | |
| --- | --- | --- | --- | --- | --- |
| | Sleeves | Warmth | Waterproof? | Conditions | Lead hole |
| Cloud Chaser | Yes | High | Medium | Cold, showers | No |
| Quinzee | No | High | Very Low | Cold, dry | Yes |
| Stumptown | No | Medium | Very Low | Chilly, dry | Yes |
| Overcoat | No | Medium | Medium | Chilly, showers | Yes |
| Overcoat Fuse | No | Medium | Medium | Chilly, showers | n/a |
| Fernie | Yes | Medium | Very Low | Chilly, dry | No |
| Climate Changer Fleece | Yes | Medium | Very Low | Chilly, dry | No |
| Climate Changer Pullover | No | Medium | Very Low | Chilly, dry | No |
| Vert | No | Medium | Very High | Chilly, wet | Yes |
| Sun Shower | No | Low | High | Mild, wet | No |
| Wind Sprinter | No | Low | Medium | Wind, showers | Yes |
| Track Jacket | No | Low | High | Low visibility | No |

This is a lot of choice and most of us don't have, want or need a dog coat for every single eventuality. So next we will show you our top picks.
Our top picks
Our recommendation from this range for a good all-round jacket that provides some warmth and protection from showers plus a handy harness hole would be the Overcoat or the Overcoat Fuse, which is the same product but with its own harness integrated into the design of the coat.
If you are looking for a non-insulated dog raincoat then we would recommend the Sun Shower or for some insulation in your dog's raincoat, try the Vert. For dogs who just want warmth and lots of it would suggest the Quinzee.
For layering or providing comfortable warmth, whether indoors or out, the Climate Changer Pullover would be our top pick.
So that's it. Off you go and enjoy your walks whatever the weather.