Sound Therapy for Dog Firework Fear
If your dog is afraid of fireworks, September-October is the time to start dealing with it. There are things you can do on the night to make things easier for your dog but it is better to tackle the fear itself, and to do this you should start now with something called sound (or noise) therapy.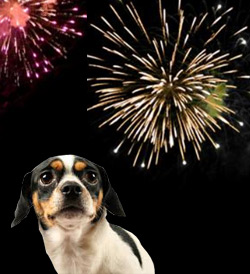 What is sound therapy?
If there is a certain noise your dog is scared of, you need to get them slowly used to that noise, to stop them seeing it as scary or as a threat. You can use sound therapy for any noise that causes fear in your dog e.g. the hoover, aeroplanes, the hairdryer etc. We will be dealing with firework whizzes and bangs but the same idea applies for all sounds.
How does sound therapy work?
The idea is to desensitise your dog to the sound that they fear. Play the feared noise very quietly while you and your dog go about your usual activities. Very slowly, proceeding only when your dog is showing no fear or reaction at all, increase the volume of the noise. The key is slowly and to only progress when your dog is ready. Go too fast and you put back all your dog's progress.
As you work over a number of weeks, gradually increasing the volume of the sound, your dog should grow accustomed to it and eventually even on the required volume should be able to accept that sound and not feel fear.
How long does it take?
Don't try to do it in a few days or even a week. Each dog varies so it is best to start now, while you have a few weeks before bonfire night and before the big bangs start. Don't set a time limit or try to rush the process. Some dogs may take 3-4 weeks, others may progress quicker and others may take longer.
Where do I get the sounds from?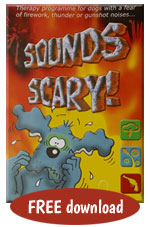 You can record the sounds yourself if you have access to them. If not, don't worry, there are CDs available especially for this type of sound therapy training, pre-recorded with all sorts of noises. But wait... we have an exciting update for you.
Dogs Trust have teamed up with vets to help dogs with a fear of fireworks by offering dog owners a free collection of specifically recorded noises for sound based treatment - The Sounds Scary Audio Therapy Programme.
Sounds Scary can help your dog deal with distressing noises such as fireworks but also much more. From thunder to vacuum cleaners and even sounds to get your dog used to a new baby or sounds to help you socialise a puppy, these audio tracks have it covered.
Experts encourage owners to start using The Sounds Scary Audio Programme a minimum of six to eight weeks before the event. So what are you waiting for! The free download of Sounds Scary with its corresponding how-to-use guide is available online at https://www.dogstrust.org.uk/help-advice/dog-behaviour-health/sound-therapy-for-pets
How do I get started?
First you need your sounds. Then, don't delay. Get started well in advance of bonfire night.
Don't pick a busy or stressful time of day to do the sound desensitisation training. Pick a time when everything is normal. Don't make a fuss or act like anything special is happening. Simply put the sound on very low and carry on as usual. You might even like to start during times that your dog is otherwise distracted, playing a game or eating their meal.
It is important to surreptitiously watch your dog and assess them for signs of fear or stress during the sound therapy process. If your dog seems stressed at any time during the training, turn the sound off and try again later or another day but at an even lower level.
Once you have played the sound at a certain volume for a while and they appear to be completely OK with it, on the next session you can increase the volume a tiny bit. And so on. Eventually the sound will become insignificant to your dog and they will ignore it. This is desensitisation. The goal is to get the sound up to the volume that it is going to be in real life.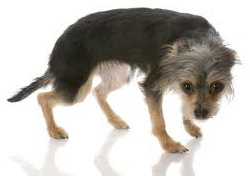 What are the signs of stress?
Shaking
Panting
Cowering
Drooling
Yawning
Ears pinned back
Tail between legs
Licking
Excessive shedding
These can all be signs of stress to watch out for in your dog. Any sign of stress and you need to go back a stage and proceed more slowly.
Other tips for bonfire night
If bonfire night is upon you and your dog still has a fear of the loud bangs and noises, you can put them more at ease with some of these more instant firework fear tips:
Try an anti-anxiety vest. It is a drug-free solution for dog fear and anxiety. When a dog is anxious, fearful or over-excited an anxiety wrap gives gentle, constant pressure which can bring calm and focus.
Remain calm and lead by example. Try not to inadvertently reinforce your dog's fearful behaviour by paying them too much extra special attention.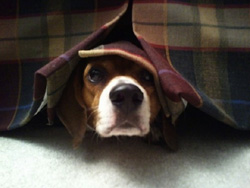 Tire your dog out. Tired and satisfied dogs are generally more relaxed and able to cope. Take your dog on a nice long walk (way before any firework bangs start) and play with some interactive games and treat toys in the afternoon. Feed your dog a nice substantial carb based meal (comfort food) late afternoon or early evening, close windows and curtains, put on the TV or music and settle down doing something routine.
Comfort and a cosy den for hiding can help many dogs. Place the den in a non-hectic corner where you are still close by but they can have space to hide. Get your dog used to the den a few weeks in advance of firework season starting, so they already associate it with safety. Sleep in an old t-shirt for a few nights and put this into your dog's new den along with a chew or stuffed interactive toy. Don't force the issue. Like crate training, the den is supposed to be a place of safety, not a bad place to go or be forced to go. They will use their den if they want to.
Other precautions
Find out the exact date of local firework displays.
Ask neighbours to warn you in advance of any private displays.
Top up your dog's water. An anxious dog may be more thirsty than usual.
By Jenny Prevel
© D for Dog www.dfordog.co.uk
This article belongs strictly to D for Dog and we do not authorise the copying of all or any part of it.