Win ££ Star Reviewer
Submit a dog product review and be in with the chance of winning our £10 gift voucher give-away. Simply review a product you have purchased and a star reviewer will be selected to win a £10 gift voucher to spend on anything from the D for Dog online shop.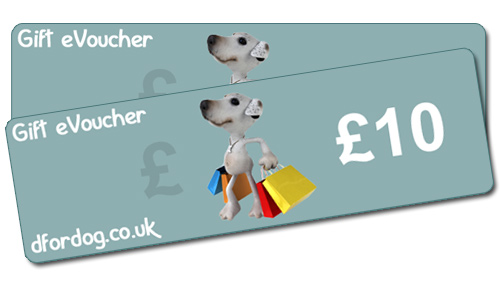 To leave a product review either revist the product page and write a review or wait to receive the feedback request email from us.
Winners
Hazel - Suitical Dog Recovery Vest
Rosalind - P&L Oval Softee Dog Bed With Memory Foam Base
Tricia - Your Dog's Paw Print Charm
A J - P&L Country Dog Waterproof Dog Bed - Rectangular
Donna - Personalised Dog Bowl - Dotty Slanted
Richard - Suitical Dog Recovery Vest
Kathryn - ThermLOW Dog Cool Coat
Iona - Oval Softee Bed With Memory Foam Base
Louise - Zero Shock Coupler
Claire - Original Dog Drying Coat
Lynne - Personalised Dog Blanket
K J Hayes - 3D Photo Engraved Crystal
Jennifer - Popware Silicone Dog Treat Pouch
Sophie - Faux Suede Dog Collar
Rachael - Warning Dog Message Vest
Susan - Protective Pet Sleeve
Vicky - Your Dog Tapestry Kit
Tabitha - Warning Dog Message Vest
John - Chuckit Kick Fetch Ball
Christine - Dog's Life Rectangular Dog Bed
Rebecca - Your Dog Paw Print Charm
Vaughn - Chuckit Max Glow Ball
Becky - Dog Paw Print Charm
Fiona - Smart Collar
Noelle - Ultimate Dog Drying Coat
Sarah - EzyDog Chest Plate Harness
Karen - H-Duo Water Bottle & Bowl
Sharon - Personalised Dog Blanket
Karen - ThermLOW Dog Cooling Vest
Sarah-Jayne - Personalised Dog Bandana
John - Country Dog Waterproof Dog Bed
Sandra - Unisex Personalised T-Shirt
Neil - Personalised Dog Towels
Julian - Lumitube Light Up LED Dog Collar
Helen - 3D Photo Engraved Crystal
Keeley - Small Edible Dog Card Happy Birthday
Debbie - Medical Pet Shirt
Steve - Country Dog Waterproof Dog Bed
Aoibheann - Chuckit Ultra Ball
Johnny - Miniature Model of your Dog
Gene - Pet Keepsake Urn
Kimberley - Personalised Dog Lead Hook
Vicki - EzyDog Zero Shock Lead
Julie - Red Dingo Stars Dog Collar
Alison - Medical Pet Shirt
Symone - Chuckit Amphibious Ring
Kimberley - Astaire Bow Tie Dog Collar
Wendy & Joanna - Chuckit Flying Squirrel
Simon - EzyDog Double Up Collar & EzyDog Zero Shock Lead
Annabel - Snuggle Puppy Brown Mutt
Lynda - EzyDog Neo Dog Collar
Symone - Chuckit Ultra Ball & Chuckit Whistler Ball
Rebecca - Snuggle Puppy
Beth - Petloc Security Dog Lead
Tom - P&L Premium Memory Foam Dog Mattress
Hilda - Eat Better Slow Feed Dog Bowl
Leanne - QR Dog Tag
Nicky - EzyDog Chest Plate Harness