Woofr Doggy Dating App
3 Comments
Thursday, 9 May 2019 |
D for Dog
Woofr, a new doggy dating app, is a fun way to help dogs find friends and humans find love with a quick swipe to the right! Woofr makes it easy for dog owners to link up and arrange doggie fun.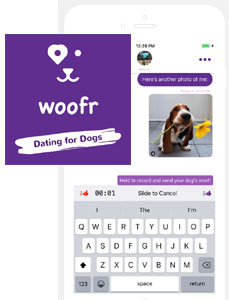 This fun mobile app (social petwork) allows users to show off their pets, make connections with other local dog owners and arrange doggy play sessions that will help their pets be more happy and healthy and maybe love could be on the cards for the owners too.
Simply download the free Woofr doggy dating app, take photos of your dog or both of you, create a profile and browse profiles of other dogs near you. If you like what you see swipe right to like. If the other dog owner returns your like, you are free to start exchanging messages and photos.
Dogs meet and play around. Meanwhile, the owners can socialize and build relationships of their own too, so much more than just a doggy dating app. You might just be lucky to find love. Time to get swiping.
Built by dog owners for dog owners, Woofr is the number one doggy dating app in the UK, US, Australia and a few other countries. If Woofr isn't already in your area, then it is on its way.
The app is available on iOS at the moment with a plan to roll out to Android in a few weeks time.
The apps main focus is on finding your dog a play mate. The app isn't only for hoomans looking for love. Woofr gives its users two options: finding friends for the dog and/or the dog owner. The idea is to connect with dog owners in your area.
iOS: https://apple.co/2Kz1t0O
Website: woofr.co