In The Media 2013
We are an established website, involved in many important dog related issues. Dogs and the welfare of dogs is our passion. We are proud of our respected position in the dog community and have featured extensively in the media. Here are some of our media clippings from 2013.


Rescue a Pet and Animal Care Magazine - Dec 2013/Jan 2014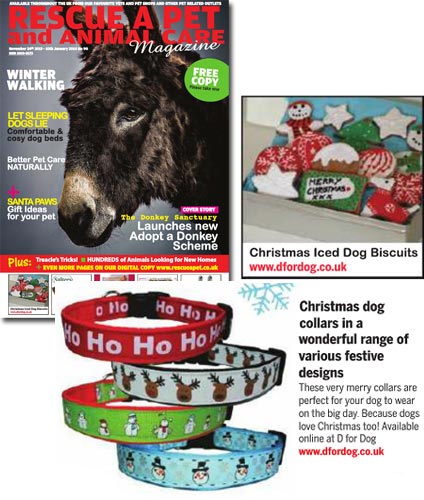 Dogs Today Magazine - December 2013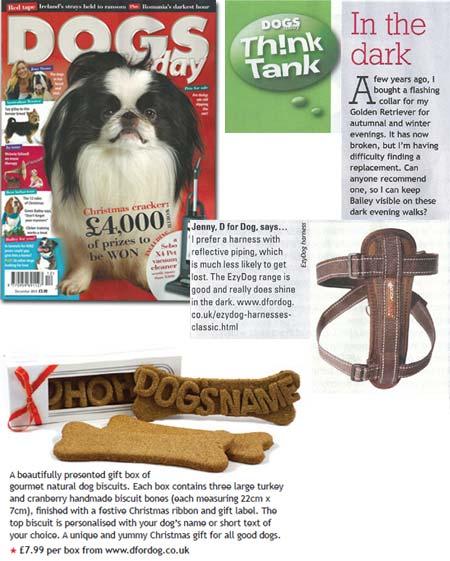 The Christmas Magazine 2013


Our Ho Ho Ho Christmas Dog Biscuits featured in The Christmas Magazine 'Gorgeous Gifts for Pets' section.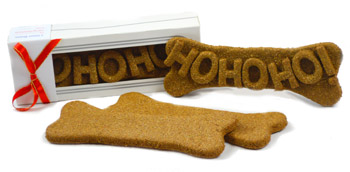 Rescue a Pet and Animal Care Magazine - Sept/Oct & Oct/Nov 2013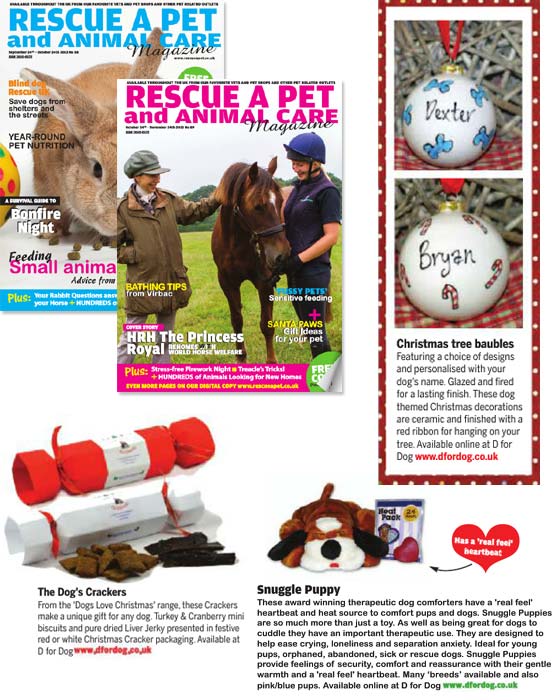 Metro - 24th October 2013


Our dog Halloween Biscuits featured in the Metro Pets 'Four of the best... Halloween Treats' section.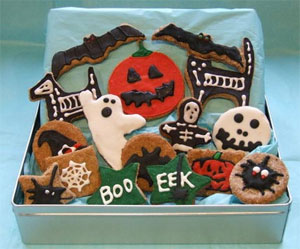 Your Dog - November 2013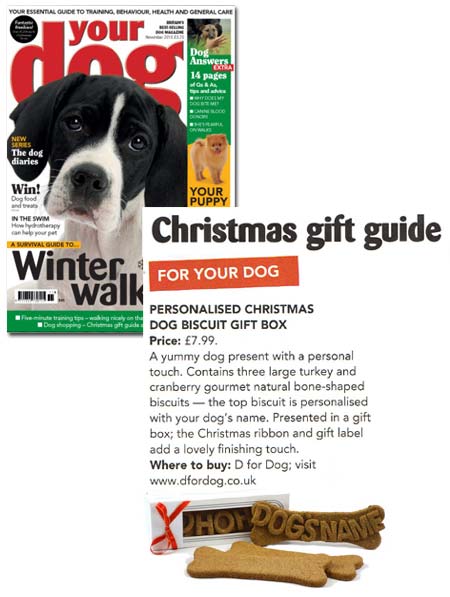 Tattershall Lakes Holiday Park


Talented photographer Dottie Photography (find on Facebook) contacted us about our red gingham dog collars, leads and bandanas (by Creature Clothes). They were needed in time for a photo shoot for Tattershall Lakes. We think the results look amazing.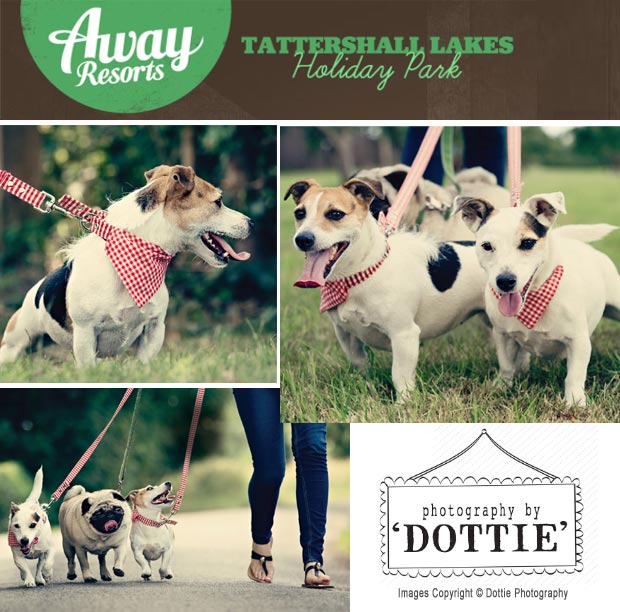 BBC Countryfile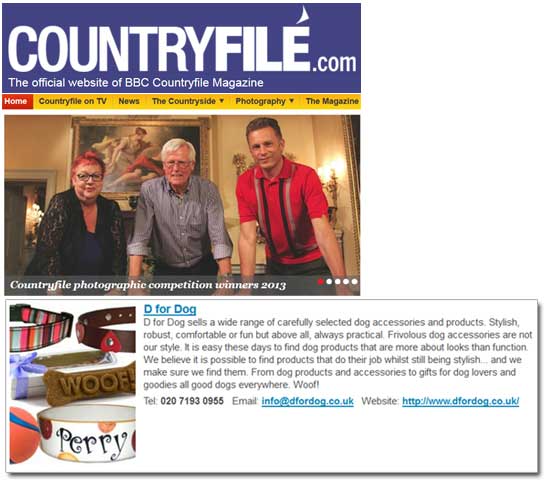 CSMA Club Magazine - September 2013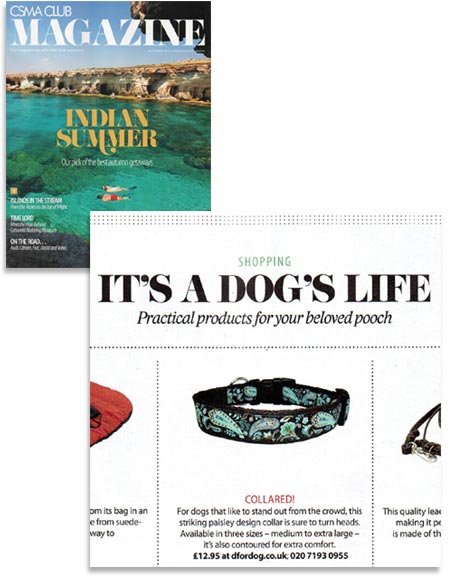 Rescue a Pet and Animal Care Magazine - July/August 2013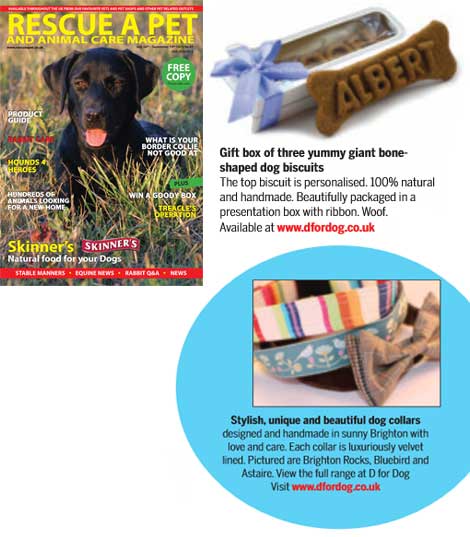 Dogs Trust - July 2013


Two loveable dog puppets, Jimmy and Chew, were created for the charity Dogs Trust to help educate children about how dogs think, feel and perceive the world around them. To find out more and view the videos, visit Puppet Dogs Jimmy & Chew Help Educate Children.

When making the films, D for Dog were contacted by Alex from Contented Brands as they needed two personalised dog bowls, one for Jimmy and one for Chew. The dog bowls feature at the start and end of the first film and both bowls feature heavily in the Maths video. The bowls that were made for Jimmy and Chew can be found here, for anyone wanting one for their own dog.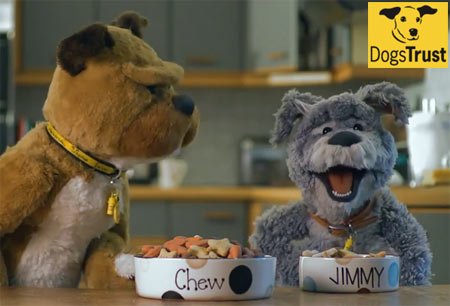 Metro Blog - July 2013


Our Parked Cars Cook Dogs poster featured in the Metro in an article entitled 'Summer heatwave: Despite multiple warnings dogs are still being left in cars'.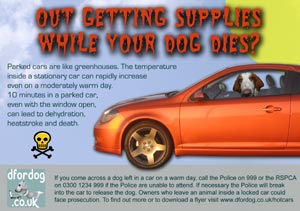 Bluepark Solutions Featured Shop - June 2013


Cate of Bluepark said: "Introducing our Featured Shop for June - D for Dog - who has been with Bluepark for nearly 2 years. Jenny's passion for all things canine is undeniable and she has managed to turn that passion into a successful business, which in this market is a particularly hard thing to do. The online shop has appeared in numerous dog magazines, as well as Vogue, The Sunday Times and on TV's Midsomer Murders."

To view the full feature, click here D for Dog Featured Online Shop (size 695k PDF requires Acrobat Reader and opens in a new window).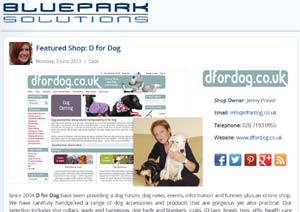 ITV's Midsomer Murders - May 2013


When dog actor and TV star, Sykes the Jack Russell terrier, needed a personalised dog bowl for his role in ITV's Midsomer Murders, Pinewood Studios contacted D for Dog. We were more than happy to speed his purchase through, ready for filming that week.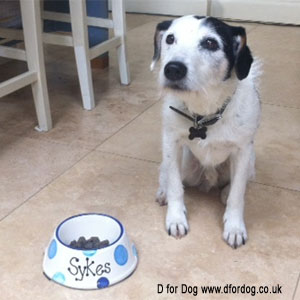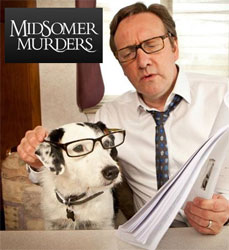 Vet's Klinic - 24th April 2013


Caroline and Emma from D for Dog joined Joe Inglis on the Vet's Klinic couch to talk about dog forums. This is a cut down version of the live show. To see the full episode visit D for Dog on Vet's Klinic TV.


UK Metro - 7th February 2013


Our hearts dog bowl featured in the Metro Pets 'the best... Valentine's Buys' section.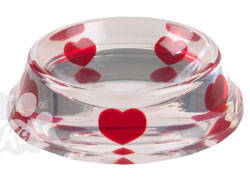 Bliss Magazine - January 2013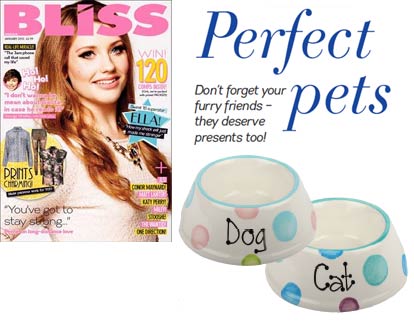 Back to list of In The Media

© D for Dog www.dfordog.co.uk