About Us
D for Dog began life in June 2004 as a dog photo gallery and shrine. Jenny Prevel took inspiration from her dogs Boycie and Berkeley to grow the site considerably since then to include dog news, events, articles and funnies, plus deaf dog information, a friendly dog forum, and of course an online shop for dog accessories.
"Our success lies in the fact that we have never lost touch with what is important and our strength is in our interaction with ordinary doggie folk. We operate as a complete online dog community. Our online dog accessories shop mirrors this by only selling items we would buy for our own dogs" says Jenny.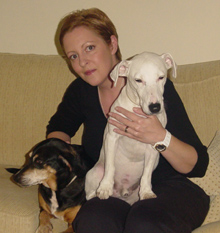 The popular D for Dog online shop sells an interesting range of dog accessories, fun dog items and practical essentials.
Claire Horton-Bussey of Dogs Today magazine said "There are hundreds of doggie websites on the net, but D for Dog is something else". D for Dog has "managed to find a way of selling things without selling out, so to speak. All the items are handpicked by Jenny as unusual, particularly useful, or recommended to her by other dog lovers. If it's not good enough for Boycie or Berkeley, it doesn't go on the site shop!"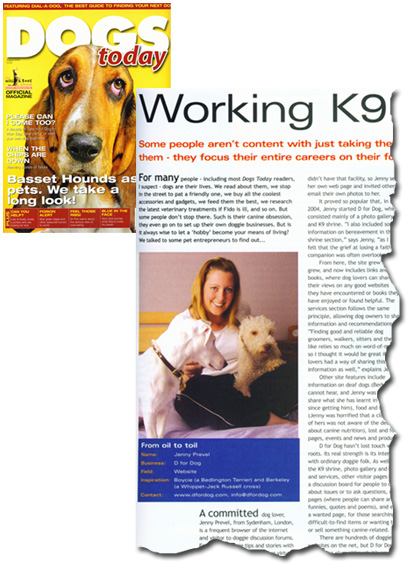 Customer care is our priority
At D for Dog we pride ourselves on our high level of customer care. We offer a one-on-one personalised service to all our customers from the moment you visit our online shop until the time your order has been delivered and you are completely happy. To view some customer reviews please see our Customer Feedback.
D for Dog in the media
We are proud of our respected position in the dog community and have featured extensively in the media. For more of D for Dog in the media please visit In The Media.
Social media
Sharing dog news, events and dog issues is important to us. We put a lot of effort into our social media, keeping dog lovers informed and up to date with all the latest dog news and information. Find us on Twitter, Facebook, Google+ and Pinterest.
VAT Registration Number: 155 1382 21