Dog Articles
Dog related questions answered. We aim to cover some of the things that dog owners want and need to know regarding dog health, dog care and dog ownership.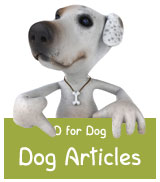 For more excellent dog advice or to have a specific question answered, visit our
Dog Forum
and ask your question to our friendly dog lovers and owners or just join in the fun. Registration and posting is free.
© D for Dog www.dfordog.co.uk
All these articles belong strictly to D for Dog and we do not authorise the copying of all or any part of any of them.