15th Birthday Competition
D for Dog is 15 years old today (yay) and to celebrate we are giving away a £50 voucher to spend on anything you like at D for Dog. Get your dog a new bed, collar, lead and harness, loads of toys.... you name it.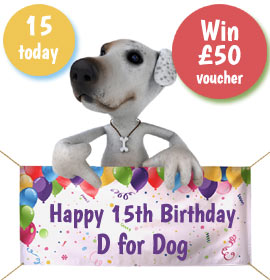 To help us celebrate and be in with the chance of winning simply tell us what you love about D for Dog and don't forget to wish us a happy birthday
It all started in June 2004 when we adopted a little deaf terrier. There was no social media in those days so I started a website where dog lovers could share photos and information. We have come a long way since then but the love and welfare of dogs is still our focus and always will be.
15 years in such a competitive environment is no mean feat so we are rather proud and looking forward to reading lots of great things about us (lol).
Let's play
Free to enter. Entry comments can be added below or on our Facebook page https://www.facebook.com/dfordogcouk
Simply tell us why you love D for Dog. Woof!
The winner is...
And the winner is....... Janine Hibbs
Congrats Janine. We loved your comments about the blogs, the shopping and gifts, our customer care and even the funnies. Please PM or email us your email address so we can get your voucher over to you. Enjoy having a good spend up for Teko.
Wow Happy 15th Birthday. Our dog, Teko is 12 now and we've been using your site since he chose us for his family. You have been our go to site for advise from your brilliant blogs, general shopping and presents for birthdays, Christmas and any points in between just because a dog always deserves a present or 2. Your products and service have always been fantastic, you can always find that special something at very reasonable prices. And of course there are always the funnies to make you smile. Keep up the great work and enjoy your birthday celebrations xXx
Thank you again everyone for all the fab comments. It was really touching to read them all and see all the doggie pics too, on Facebook