Great Global Greyhound Walk
Monday, 22 April 2019 | D for Dog
The Great Global Greyhound Walk is an annual dog-walking event that brings together greyhounds, lurchers, other sighthounds and their owners to raise awareness of the breeds and show the public just what wonderful pets they make.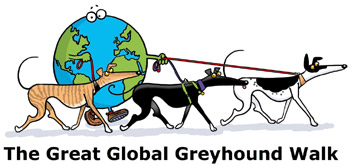 Each Great Global Greyhound Walk is organised by a local volunteer. And, to make a day of it, the walks are often followed by a social or fundraising event: picnics, BBQ's, mini dog shows, awareness stalls etc. to help promote the hounds even more and hopefully raise some much needed funds for those still waiting for homes.
Become a part of the Great Global Greyhound Walk family, join in the fun and help them beat previous years totals whilst promoting greyhounds and their sighthound cousins.
Where?
A location near you.
When?
Sunday 9th June 2019.
Who?
Great Global Greyhound Walks are open to everyone and you don't have to join anything, register anywhere or book in advance. Simply arrive at the walk venue in plenty of time and enjoy!
For more information, visit http://www.greatglobalgreyhoundwalk.co.uk/