Dog Harnesses
Find the perfect dog harness for everyday walks, training or activities. A stylish and practical range of dog harnesses including the affordable Red Dingo brand, comfortable air mesh harness designs and clever dog training harnesses. Whichever you choose, you can be assured they are all safe, comfortable and reliable.
Browse our quality, leading brands of dog harness
A dog harness is a pretty standard piece of dog walking equipment, giving you and your dog a safe and easy way to go out and about. A good dog harness is essential for walkies. They take the strain off your dog's neck and throat making the walk more pleasurable for your dog. They also offer more security and give you more control too.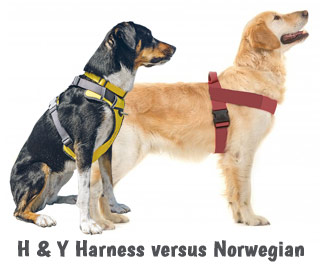 There are so many styles, designs and types to choose from. What is the best dog harness to buy? As always at D for Dog, we have picked our favourite dog harnesses for our online shop.
Dog harness shape and style
The traditional 'H' shaped dog harness has been around for decades, with good reason. It is the perfect shape to avoid muscle and skeletal problems in dogs. An H-harness keeps your dog's shoulders and front legs free from restriction, ensuring a natural and free range of movement for your dog.
However, there is a shape of harness that is surprisingly popular at the moment which goes across the front of the dog's chest, Julius K9 style, which can hamper a dog's natural movement. Take care with the fit and style of any harness that you buy and make sure your dog is moving comfortably and naturally in it.
Find out more here H-Harness v Norwegian Dog Harness.
Adjustable dog harness
If you have a non-standard shaped dog or a growing puppy, your best buy is an adjustable harness. These usually have multiple adjustment points at the girth and neck, so you can get the perfect fit for your dog or growing pup. Red Dingo's classic dog harness range comes in plain colours or a variety of fabulous patterns. Universally loved for its simple design, durability and comfort for all sizes of dog, these harnesses are high quality at an affordable price. You get lots of bang for your buck with this brand.
You may also like the newest addition to their range - the Red Dingo Padded Dog Harness. Great as an everyday walkies harness or as a training tool, it is padded and comfortable, durable and machine washable and features a front and back D-ring for lead training your dog. Woof!
Mesh harness
A soft mesh dog harness is always very popular. They are so soft and comfortable and especially suited for small dogs. Their lightweight, breathable construction is always a winner. They come in two main styles - over the head or step in. Cute, soft and comfortable, they are a nice option for smaller doggies. FuzzYard make a gorgeous range of funky and modern harnesses for small to medium sized dogs in soft colourful fabrics with comfortable mesh inners. They are total head turners.
Larger dogs will generally need something a little more substantial like the ones mentioned above with adjustment points and a handy front D-ring for extra control.
No pull dog harness
Why not let your dog's harness double up as a training aid. There are a number of options to choose from if you are looking for an anti pull dog harness.
What is the best dog harness for dogs that pull? An effective solution is to use a front clip harness with a special double-ended training dog lead attached at the font and back of the harness. This kind of dog training harness, with the D-ring on the front as well as the back, gives you complete control over your dog's forward movement.
Be seen
Perfect for low light safety, reflective elements incorporated into the harness design or featured along the trim will help your dog to be safe and seen on early morning or evening walks.
Puppy harness
Pups grow fast and this can make harness shopping a nightmare. The best solution is a fully adjustable, durable and machine washable set made especially for pups. The puppy harness, collar and lead sets by Red Dingo are a firm favourite and great value. With special slim webbing, lightweight furniture and multiple adjustment points for growing bodies, they are sure to see your youngster through those growing years.
Best dog harness
As you can see, there really is no single best harness for all dogs. Every canine varies in shape, size and needs. When looking for the perfect dog harness, go for one that is comfortable for your dog, offers support in all the right places and is tough and durable - it is doing a really important job after all. Make sure it is fully or at least partly adjustable so you can get a good fit. If it is machine washable, that is a great added bonus.
How do you measure a dog for a harness?
It varies according to the type and style you are looking to purchase but most dog harness brands will require at least a girth measurement. Use a soft tape measure or piece of string and measure your dog's girth when they are standing up straight, to get an accurate measurement.
A more structured vest shaped design that needs to go over your dog's head may also ask for your dog's head / neck measurement. Make a loop with your tape measure to be sure the harness you are purchasing does go over your dog's head and sits comfortably at the base of their neck.
Hopefully this has helped but any questions, just ask. Happy shopping!
Useful links and related blogs