D for Dog 18th Birthday Competition
It is our birthday... D for Dog is 18 years old today.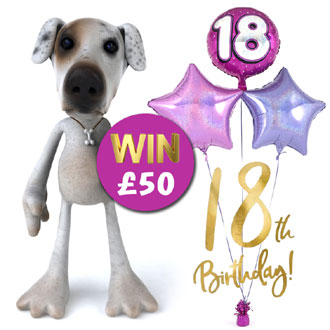 We can now officially vote, get married, play the lottery and buy squiff-inducing drinks. OK, we won't but we could, lol.
The internet was such a different place back then. D for Dog started at a time when social media didn't exist (no Facebook, Twitter or Instagram), when Amazon only sold books and CDs and eBay sold second hand goods. And if you wanted pet supplies you had to go to a pet shop. Yes, a real 'shop' shop.
I didn't start D for Dog to become rich (which is probably a good job, lol). I started it when I adopted a little deaf dog and I was trying to get and share information with other dog lovers online. It wasn't easy, so I made my own site that is how D for Dog started life.
We have seen many dog websites come and go over the years but we have endured because we have kept our passion and integrity. We give useful and considered advice and we take great pride in our high level of customer care and product sourcing.
It is our 18th birthday... we are allowed to show off a little
So we all know how amazing we are, lets crack on with the competition. To celebrate our 18th birthday we are giving away a D for Dog shopping spree worth £50. Yes, 50 big ones. Wow!
If you fancy a £50 e-voucher to spend in our online dog products and accessories shop, all you need to do is answer this fun question. Are you ready...
Let's play
The competition is free to enter.
Simply fill in the competition form below, answer the multi-choice question and click 'Submit Entry'.
When entering, please check / type your email address carefully as that is what will be used to email you your prize, which is a digital e-voucher to spend online at D for Dog.
Competition closes Thursday 30th June 2022.
One entry per person. UK only. The winner will be picked at random from all correct entries. If you win, your email address will be used to email your voucher prize so please type carefully.
Good luck.
The competition is now closed. We will publish the winner shortly.
And the winner is...
Emily Keeves
Congratulations Emily. We will email you your e-voucher prize
Thank you everyone for playing and for the birthday wishes x