Animal Cruelty Sentences are a Joke
Animal cruelty sentences are a joke. Stand up for the animals.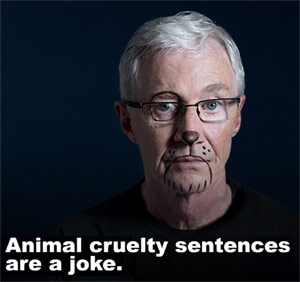 The current animal cruelty sentence is neither a punishment nor a deterrent. England, Wales and Scotland have some of the lowest maximum sentences for animal cruelty in Europe and the USA.
Did you know that the maximum sentence for fly tipping is longer than the maximum sentence for animal cruelty.
In England and Wales, the maximum sentence for animal cruelty is six months in prison. In Scotland it is 12 months in prison.
Help increase these maximum sentences to five years.
Some of the UK's most beloved comedians are joining forces with Battersea Dogs & Cats Home to spread the message that the maximum sentence for animal cruelty in England, Wales and Scotland is so bad, it's laughable.
Paul O'Grady says:
"There's nothing like looking into an animal's eyes to see how innocent and trusting they are, and it makes me so angry to see the way some people mistreat and abuse them. I can't stand by and watch while those responsible for the most terrible suffering are unlikely to get more than a few weeks in prison. What's to stop them doing it again? Six months isn't a fit punishment. It's time we started taking animal abuse seriously and punish it for the awful crime it is. I've witnessed first hand the incredible work Battersea do to rescue those dogs and cats, and I'm standing up with them to call for stronger sentences for animal abusers."
How your support can change the law
Support Battersea's campaign and let's change the law for animals. You can help by getting the support of your MP or MSP, encouraging them to back five year animal cruelty sentences.
Enough support will get animal cruelty sentencing on parliament's agenda. The hope is to get parliament to change the law, helping countless of defenceless animals.
For further information and updates, please visit notfunny.battersea.org.uk
#NotFunny