Ban of Third Party Puppy & Kitten Sales
A ban on third party puppy and kitten sales will come into effect in England on 6th April 2020. The rules are also designed to deter smugglers who bring young animals into the UK to be sold.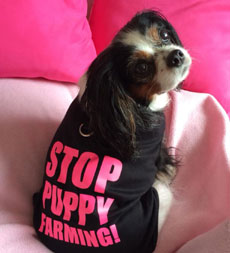 Lucy's Law, as it is known, aims to protect puppies and kittens by putting an end to puppy and kitten farming. Puppies and kittens under 6 months old will no longer be able to be sold via a third party such as a pet shop or dealer. Only people who have bred the animal themselves will be allowed to sell them.
Pup Aid co-founder Marc Abraham, or 'Marc the Vet' as he is known, explains:
"The law is named after Lucy (pictured), a Cavalier King Charles Spaniel who died in 2016 after being subjected to terrible conditions on a Welsh puppy farm. Dogs like Lucy are often kept by breeders to produce multiple litters of puppies, which are taken from their mothers at just a few weeks' old and advertised online or sold in pet shops."
The legislation will ensure that puppies and kittens are born and reared in a safe environment, with their mother, and sold from their place of birth.
Buying your new best friend online or from a pet shop or other third party seller means that your pet's background is likely to be unknown or sketchy. These kinds of purchases are fraught with hidden dangers and heartache plus each purchase helps the cruel puppy farm trade to continue. There are many sad and scary stories out there. One such story is little Buddy. You can read his story here The hidden costs of buying a new 'Buddy' from third party pet sellers.
Marc explains, "The ban will also deter puppy smugglers who abuse the Pet Travel Scheme (PETS) by bringing underage puppies into the UK which are then sold on for financial gain."
RSPCA Chief Executive Chris Sherwood said:
"We hope this ban – alongside the tougher licensing regulations that were introduced in October – will help to stamp out the underground trade that exploits these wonderful animals simply to make a quick buck."