Ban Towbar Dog Carriers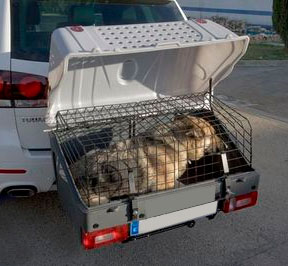 The emergence of a new towbar product for transporting dogs is causing concern, and rightly so. These contraptions are barbaric and cruel.
One look at the photos should tell you all you need to know. It is exactly what it looks like - a crate that fits on the towbar on the back of your car, and people are being encouraged to transport their dogs in them.
This is not a safe or responsible way to transport any living creature. I can't begin to imagine how frightening this must be for a dog.
Advertised as the ultimate solution "for the transport of luggage, bicycles, dogs, pets, strollers, wheelchairs, etc." How sickening.
One of the sellers of this insane product say "you do not get your car dirty or scratch it. Also saves 2 hours of cleaning... every weekend!". Well that's OK then.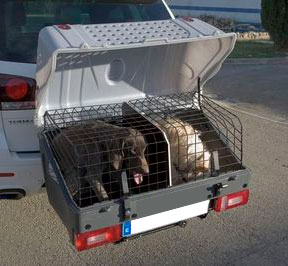 Apparently you can also kit the box out with a wooden floor "for your dog's comfort" and it has ventilation holes, also "for their comfort". Unbelievable.
This mode of transport is dangerous, stressful and cruel.
Petition
In many countries dogs are being cruelly transported in this way. Towbar crates of various designs are already for sale in Ireland. We are asking everyone to sign and ask our Government to ban these barbaric means of transportation before they become available for sale and use in the UK.
Click here Ban the use of towbar dog carriers before they are available for sale and use in the UK.
10,000 signatures are needed and they are so very nearly there so please sign and share.