Wag Walk 2018
Calling all dogs, big and small... it's time to grab your lead and help pets in need!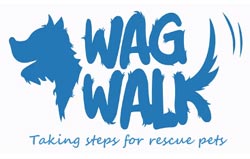 Take part in Bath's biggest dog walk of the year. Bath Cats and Dogs Home are organising the 2018 Wag Walk, a charity dog walk on Sunday 20th May 2018.
Join in on the wooftastic walk across the beautiful Bath countryside, starting and finishing at Bath Cats & Dogs Home.
New this year is a shorter, flat route for young or old paws. Choose the new 2 mile route or the 5 mile walk for a bigger challenge. The walk will be led and guided by the events team, and is fully signposted.
You'll get your very own Wag Walk doggie bandana to wear on the day and meet lots of new doggie friends on the way round. You will also receive a tote bag filled with celebratory treats once you've finished the walk, and best of all you'll be helping rescue dogs needing care at Bath Cats & Dogs Home.
There is free parking and facilities on site. Sign in is at 9.15am. Everyone starts the walk together at 10am.
There will be stalls selling refreshments and pet products and there is plenty of space for you to bring and enjoy your own picnic after the walk.
For more information and to book go to www.bcdh.org.uk/wagwalk
You can also visit the Bath Cats and Dogs Home facebook page.