Give the Gift of a Home this Christmas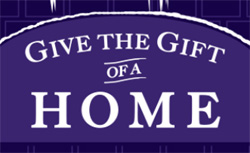 Battersea Dogs & Cats Home have teamed up with Metro.co.uk to bring you a wonderful rescue dog and cat advent calendar. The idea is to help some of their 400 dogs and 250 cats find a loving home.
Could you give a dog or cat the gift of a home this Christmas?
While the cats and dogs in Battersea's three rescue centres will be well looked after this Christmas, they would all love a home to call their own.
Bringing a pet into your life should never be a rash decision and pets should never be given as gifts, but if you genuinely feel that you could welcome a new pet into your life, open the doors of this online advent calendar throughout December to see if your future best friend is waiting for you.
Sorry it is a bit late but I only just found this and you can still view all the dogs who were on days 1-14 too
Give the gift of a home this Christmas. Please spread the word and come back each day to see who's behind the next door.
Visit Give the gift of a home this Christmas
I opened today's door and found Bonnie, a gorgeous 5 year old German Shepherd:
"Bonnie is a gorgeous girl who would love nothing more than a new home for Christmas."
Together we can give these dogs and cats the gift of a home.
If you think you could give a home to one of these animals, please call Battersea Dogs & Cats Home on 0843 509 4444 or visit https://www.battersea.org.uk/ for more information.