Ultimate Showdown - Cats versus Dogs
The race is on to find out who can raise more money for charity - cat lovers or dog's best friends? In this game of Top Cat vs The Underdog the feline fans are racing ahead in Battersea Dogs & Cats Home's new Ultimate Showdown fundraiser.
Are cat lovers naturally more generous or will team dog take the lead over the next few weeks?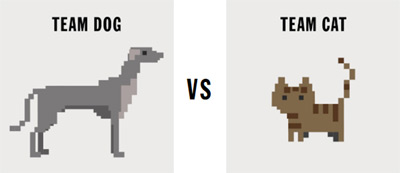 This innovative new fundraising initiative calls on gamers to help raise money for the charity's animals. Ultimate Showdown sees video game enthusiasts split in to two camps, Team Dog and Team Cat, as they get creative and find different ways to raise sponsorship while they play.
So choose your team and raise money for the dogs and cats at Battersea by hosting your own fundraising gaming challenge. All you need to do is pick which video game you want to play and set yourself a challenge around that game. You can play on your own or as a team, on console or PC. Kick back at home, share your challenge on social media and even level-up your fundraising by streaming online.
Despite Team Dog currently having almost twice as many players as their feline rival, Team Cat gets the cream for having raised almost one hundred per cent of the money so far. There is still plenty of time for Team Dog to take the lead before the big finale.
Over two hundred people have signed up to the competition and will now battle it out to be named a top fundraiser and go through to the Ultimate Showdown on 8th October. The top players from Team Dog and Team Cat will be joined by a host of well-known gaming influencers for a final competition which will settle the age-old debate of dog vs cat once and for all. This final battle of wits will take place in London and be livestreamed on popular gaming platform Twitch.
Jo Stone, Battersea's Head of Public Fundraising, said: "Here at Battersea we're always looking for fun, new ways for people to raise money for our dogs and cats. We're really pleased to see so many animal lovers sign up and can't wait to find out which team will ultimately triumph."
Donations received throughout the competition will go towards the medical attention, training and care our dogs and cats need as we get them ready to find the happy homes they deserve.
You can find out more about The Ultimate Showdown or how to host a video gaming challenge on the Battersea website - Ultimate Showdown.