Virtual Puppy Training Courses
Battersea have launched a new virtual puppy training course for lockdown puppies and their owners, to ensure this new generation of pups aren't missing out on vital skills while restrictions remain in place across the country.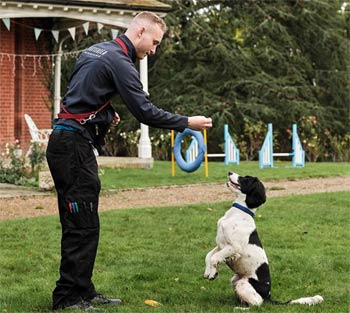 With various restrictions in place during lockdown, it has been difficult for owners to ensure that their pup gets the same start in life as their pre-pandemic peers. Face-to-face classes have been far less frequent and social distancing has made socialising with other dogs far trickier.
To help this lockdown generation of puppies develop a solid behavioural foundation and avoid picking up any bad habits, Battersea's behaviour experts have launched a six-week virtual puppy training programme so you and your puppy can learn together from the comfort of your own home.
Battersea's Canine Behaviour and Training Manager, Nathalie Ingham, said:
"Thousands of people across the UK have welcomed new puppies during lockdown and we want them to know Battersea is here to support them. Training virtually is a great option for many people as lockdown continues. Our classes are designed for complete beginners and we'll go at the pace of each individual dog so every pup gets the most from their training."
The Puppy Programme is a six-week course of weekly classes held by Battersea's trainers over Zoom. Topics include obedience basics such as learning to come when called, to settle, and to walk on a lead sensibly. There is a limit of five puppies per class to ensure the trainer can focus on the needs of each dog and all dogs should be aged five months or under, as this is a foundation level programme. Puppies don't need to have come from Battersea Dogs & Cats Home. Any pup five months or under can join.
One of the great things about training virtually is that anyone can take part no matter where in the country they are. It's such a great way to bond with your dog and hopefully a fun group activity, not just during the classes but for the weeks and months ahead.
The next available courses are scheduled to start on:
Beginning 8th October (for 6 weeks)
Beginning 26th October (for 6 weeks)
Beginning 10th November (for 6 weeks)
There will be morning (10am-11am) and afternoon (1pm-2pm) classes on each of those days. Classes are limited to five puppies per session and spaces are expected to book up fast. The course costs £80 in total for six hour long sessions.
After six weeks, you and your puppy will proudly graduate from the Puppy Programme with all the tools you need to continually grow and learn together.
To find out more, book a place or register your interest in future courses, visit: Training Your Puppy the Battersea Way
While these virtual puppy training classes are currently limited to dogs aged five months and under, Battersea is always available to help dogs of all ages. If you have any questions regarding your dog's behaviour, you can call their dedicated pet behaviour advice line on 0203 887 8347 or visit their website for trips and techniques battersea.org.uk/pet-advice/dog-advice.