Be Dog Smart
4 Comments
Wednesday, 18 March 2015 |
D for Dog
There is no escaping the fact that dog attacks are on the rise. The rate of hospital admissions for dog bites is highest among the 0-9 year old age group. Dogs Trust has launched a ground breaking Be Dog Smart dog safety campaign.
Please share. We all need to know this information. The simplest advice could save a child or dog's life. In the survey 98% of parents were unaware that there are over 20 signs that a dog may be feeling uneasy or aggressive. Shockingly over half the children surveyed thought that a growling dog was smiling. Being more dog smart is a must!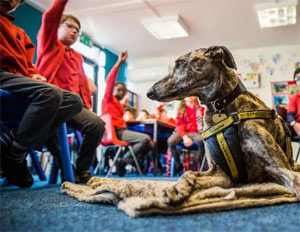 Children antagonise dogs in a number of ways from shouting or hitting them to pulling their tails, sitting on them, disturbing their sleep and kissing their faces.
The new Be Dog Smart campaign aims to educate the entire community on how to stay safe around dogs.
Dogs Trust Chief Executive, Adrian Burder, comments:
"Children can come into contact with dogs every day and being around dogs can have so many wonderful benefits, but the simple fact is that all dogs have teeth and any dog can bite or snap if worried, scared or hurt. So, to reduce the number of dog attacks, whether you are a dog owner or not, it is important that we all know and teach our children, grandchildren, pupils and friends how to behave around dogs."
As part of the campaign, a Dogs Trust's team of 22 Education Officers will go into schools, libraries and community centres across the UK delivering Be Dog Smart workshops. Key advice will be given to anyone who has responsibility for children – parents, teachers, grandparents, child-minders, foster carers, sports coaches and the children themselves.
Dogs Trust Manchester Education Officer, Anna Baatz, says:
"Children must understand that a dog is not a toy – they don't always want to play! Simply understanding when a dog says "enough" can be the difference between a bite or not."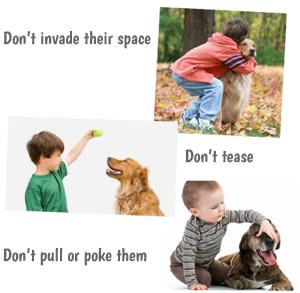 Many of the things taught to us as children have a lasting impact - good safety advice that we never forget, from not talking to strangers to our Green Cross Code.
Wouldn't it be great if Be Dog Smart was just as widely taught and well known.
Dogs Trust explains: "Our hope is that simple advice such as NEVER leave your child alone with any dog, never tease a dog, don't approach a dog you don't know and always asking the owner before you approach a dog could prevent more dog attacks."
10 easy tips to stay safe around dogs
Beware of disturbing dogs that are eating or sleeping
Even if for fun, don't ever tease a dog
Don't approach a dog with no owner around
Only stroke a dog when the owner says "Yes, you can."
Get the dog to sniff your hand first, then stroke gently
Strange dog approaching? Stand still, look away, cross your arms (Do the X-Factor!)
Move calmly and quietly around any dog
All that hugging and kissing - you might like it, dogs don't!
Remember all dogs have teeth
Treat dogs with respect and they will respect you
The National Childbirth Trust is supporting the Be Dog Smart campaign. Elizabeth Duff, Senior Policy Adviser at NCT says:
"A dog can be a happy part of family life but taking a few simple precautions will help to avoid your children incurring any avoidable injuries. The Be Dog Smart guidance offers parents some great tips to keep new babies and toddlers safe around dogs and we would encourage all parents to take a look at them."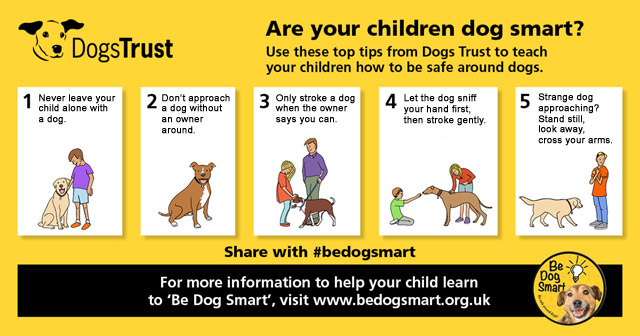 Be Dog Smart
If you would like to arrange a 'Be Dog Smart' workshop at your local school, library, community centre or other suitable location or to see if there are already workshops going on in your area please visit www.bedogsmart.org.uk
Comprehensive 'Be Dog Smart' resources are also available to download free or to order. There are leaflets, promotional flyers, a classroom poster and a Be Dog Smart guide.
The Be Dog Smart leaflet contains information on how to read your dog's body language and what to do if a strange dog approaches your child. The comprehensive Be Dog Smart guide gives advice to parents on what to do if you are expecting a new baby and how to prepare your dog to how to teach your teenager to behave around dogs to ensure that they stay safe.