Highchair For Dog With Enlarged Oesophagus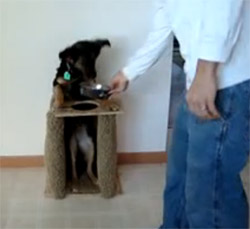 This sweet little dog is called Bella. She has a condition called Megaesophagus which means that her oesophagus is enlarged and she needs to eat her meals in an upright position. In this video you can see her happily using what is called a Bailey Chair. It keeps her comfortable and upright while she eats and for 10 minutes afterwards.
In the Youtube description her owners explain: "This is our cute dog Bella. She was diagnosed with congenital megaesophagus soon after we found her at 4 months old. Megaesophagus means that her esophagus is enlarged and lacks the muscle mobility to swallow food while horizontal. This is her "Baileys Chair," which she needs sit in while eating and for 10 minutes after she eats. She eats soft dog food with a little water mixed in. She is now seven months old and doing great!"
Wonderful. Well done to Bella's lovely humans for taking such good care of her extra special feeding needs and bon appétit Bella.
For more info on canine Megaesophagus and these special upright highchairs for dogs, visit
Megaesophagus and The Bailey Chair
.
A lot of people ask me when they can get a Bailey chair in the UK. This Facebook page
Bailey Chairs for Dogs UK
make them but there is a waiting list. You can contact them via Facebook.