The Best Dog Books of all Time
As dog lovers, we all love to read about our four legged friends. There are so many fantastic, inspirational, funny, sad, uplifting dog novels and true stories out there to choose from.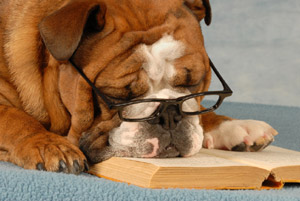 We thought it would be great to put together a definitive list of your favourites... you know the sort of book you read and immediately want to tell all your dog loving friends about.
So we started an online poll and you told us about your favourite dog books.
7 dog themed true stories and novels stood out in the voting as your all time best dog books.
Thank you to everyone who voted. As a result of the survey I have definitely found some new books to add to my wish list and I hope you do too.
Your favourite dog books are:
1) Marley and Me: Life and Love With the World's Worst Dog
by John Grogan

The heartwarming and unforgettable story of a family in the making and the wondrously neurotic dog who taught them what really matters in life. "A book with intense appeal... tenderly follows its subject from sunrise to sunset, from the ball-of-fluff stage to the heartbreaking farewell." New York Times
2) The Art of Racing in the Rain
by Garth Stein

A heart-wrenching but deeply funny and ultimately uplifting story of family, love, loyalty, and hope, The Art of Racing in the Rain is a beautifully crafted and captivating look at the wonders and absurdities of human life... as only a dog could tell it.
3) Endal: How one extraordinary dog brought a family back from the brink
by Allen Parton

Allen Parton was seriously injured while serving in the Gulf War. This is the story of Endal and how, through his remarkable skills, companionship and unstinting devotion, he gave Allen a reason to live again.
4) A Dog's Purpose: A novel for humans
by W. Bruce Cameron

This is the remarkable story of one endearing dog's search for his purpose over the course of several lives. More than just another charming dog story, A Dog's Purpose touches on the universal quest for an answer to life's most basic question: Why are we here?
5) Oogy: The Dog Only a Family Could Love
by Larry Levin

The story of a puppy brought back from the brink of death, and the family he adopted. Heartwarming and redemptive, Oogy is the story of the people who were determined to rescue this dog against all odds, and of the family who took him home, named him "Oogy" (an affectionate derivative of ugly), and made him one of their own.
6) Bones Would Rain from the Sky: Deepening Our Relationships with Dogs
by Suzanne Clothier

A book like no other, taking the reader on an exploration of our relationships with dogs that moves far past the recipes of how-to books or mere technicalities, and into the very soul of relationship.
7) One Dog at a Time: Saving the Strays of Helmand - An Inspiring True Story
by Pen Farthing

In Helmand Province, Pen Farthing and his troup of young Royal Marines survive frequent engagements with the Taliban and forge links with the local community. Pen's tour of duty will change his life forever, but for entirely unexpected reasons. The remarkable true story of how one man saved the stray dogs of Afghanistan.
136 votes. 57 books voted for. Top books based on books gaining a score of 15 voting points or over.
By Jenny Prevel
© D for Dog www.dfordog.co.uk
This article belongs strictly to D for Dog and we do not authorise the copying of all or any part of it.