Big Pet Survey Now Open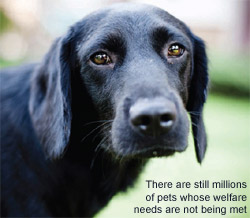 Pets make us feel healthier and happier, but are we killing them with kindness?
Findings from the latest PDSA Animal Wellbeing (PAW) Report, produced in conjunction with YouGov, lift the lid on the issues facing our pet nation.
The PAW Reports are packed full of interesting facts and figures about the health and wellbeing of UK pets, as well as lots of tips on providing them with the right kind of care. Learn more about what your pet needs to be healthy and happy! Links to all previous reports can be found online.
In the four years since the PAW Report was launched, over 21,000 pet owners and veterinary professionals have been surveyed. Until the launch of the PAW Report there was no overarching means of identifying, assessing, monitoring and improving the wellbeing of companion animals.
Help make a better life for all pets by adding your voice to the PDSA Animal Wellbeing (PAW) Report.
Take part in the nation's biggest ever pet survey
https://g4-emea.yougov.com/v4lcCpMt0G0vw9
Make a better life for pets. Add your voice to the PAW Report. It only takes a few minutes. Take part in the survey and please share it with all pet owners.