Black Dog Syndrome
Today, 1st October, is National Black Dog Day. It's a day to celebrate our black furry woofers, especially those in rescue waiting for their forever homes. Yes, National Black Dog Day is for real and here's why.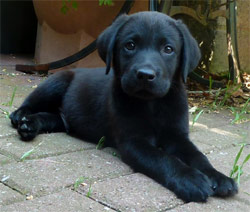 Black dogs in rescue are often the last to be adopted, often waiting a very long time for homes. The phenomenon is so well recognised , it even has a name - Black Dog Syndrome.
The sad fact is that black dogs in rescue are much more likely to be passed by. They don't get adopted as quickly as their lighter contemporaries and, as a result, their euthanasia rates are also higher. Many of them never find homes and may have to be put to sleep.
Why might this be the case? Why are we seeing Black Dog Syndrome? Are there misconceptions about black dogs that are stopping them from being seen as good pets?
It seems this may be the case. Of course there is nothing at all to suggest black dogs are any different to any other dog yet there does seem to be some misconception that black dogs a have a poor temperament and are somehow meaner or more aggressive. Black cats suffer the same issue. The stigma of having black fur could have deep roots, founded in all kinds of myths, superstitions and folklore.
Or could it be that their dark fur somehow translates to human eyes, hearts and minds as less interesting or lacking in character? Do they visually lack uniqueness or facial expression? I'm really not sure. Either way, black dogs are of course as normal, loving, unique and wonderful as any dog.
National Black Dog Day helps raise awareness of this situation. Black Dog Syndrome needs to come to an end.
So don't over look the black dogs folks. Spread the word
By the way, people also often say that black dogs don't photograph very well. This could indeed hamper their chances of adoption because so many dogs these days are viewed online before being visited. We asked our Deefers on Facebook to help us out. Look at some of the wonderful photos we were sent. Gorgeous.