Blue Cross Big Neutering Campaign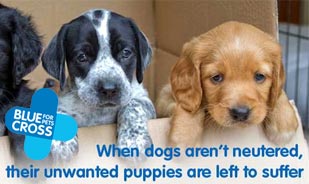 When dogs and cats aren't neutered, their unwanted puppies and kittens are often left to suffer. Please help Blue Cross neuter more pets to stop this needless misery. The number of unwanted pets has reached epidemic levels.

Leading pet charity, Blue Cross, is warning that the number of 'disposable' kittens, puppies and pregnant pets has reached troubling levels. With its countrywide network of rehoming centres overwhelmed as numbers of pets being dumped and abandoned reach a record high, the charity is calling on owners to stop the needless suffering by supporting the Blue Cross Big Neutering Campaign which launches Friday 19th October 2012.

In the last four years, the number of pets born at Blue Cross centres after their pregnant mothers were abandoned or given up has nearly doubled and the numbers of homeless kittens and puppies rescued by Blue Cross has also rocketed. Tragically many will experience a miserable and short life.

It is a trend that Blue Cross wants to reverse. The Blue Cross Big Neutering Campaign aims to make neutering the norm; stamping out irresponsible breeding and raising awareness amongst millions of animal lovers of the huge benefits of neutering their pets. Preventing unwanted litters can save pets from a life that's often short, unloved and full of misery.
Kim Hamilton, chief executive of Blue Cross, explains: "The tragedy is that somewhere along the line pets have become the latest throwaway commodity. For many, their pets are part of the family but there are simply too many pets and not enough of these good homes to go round. While charities like Blue Cross will always be there to give needy pets a healthy, happy future we must reverse this trend so pets are not disposed of like rubbish and neutering your pet is the norm."
Kim continues "Owners can do their bit by supporting our campaign but we need government action to discourage irresponsible breeders who make it easy to get a pet on impulse and just as easy to discard. We are calling on decision makers to change laws so that everyone who owns more than one dog capable of breeding should be identified as a breeder and visible to authorities. Blue Cross believes that this would discourage casual breeders who are producing pups in an already saturated market."
As a charity, the more pet owners can do to help the more Blue Cross can do to help prevent the suffering. You can find out more about the Blue Cross Big Neutering Campaign or make a donation to help Blue Cross neuter more pets by visiting bluecross.org.uk/neuter. You can also help stop pets suffering by spreading the message of the Blue Cross Big Neutering Campaign #disposablepets.