Pet rehoming - dispelling some of the myths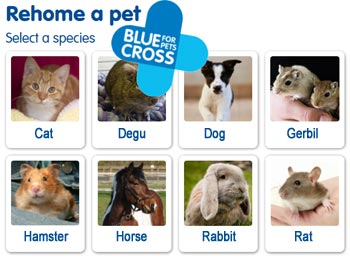 Blue Cross pet charity is very proud to be launching a new video about their rehoming services. The video has been created to dispel some of the myths around the process and encourage people to adopt a rescue pet.

At any one time Blue Cross centres have more than 500 pets, including dogs, cats, horses, guinea pigs, rabbits and mice, looking for loving new homes. With more pets than ever being given up by their owners of even abandoned, centres are feeling the strain. This new video hopes to encourage more people to take on the right pet for them and realise the benefits of making it a rescue one. The video will also assure potential new owners that Blue Cross is a trusted, friendly and kind option for pet rehoming.

Tailor made rehoming scheme
Blue Cross has a tailor made rehoming scheme, which means that each case is looked at individually to help people find the right pet. There are no fixed rules about what makes the perfect home because every pet and their needs are different. Instead, Blue Cross rehoming centre teams work hard to find one that's the right match for the potential new owner and their lifestyle so that they'll have a happy future together.

Benefits of rehoming a Blue Cross pet
All Blue Cross pets are:
vaccinated, microchipped wormed and neutered
examined by a vet and treated as required
assessed by an experienced member of our team to determine what type of training and education they need
given an individual training plan depending on their needs
given an individual profile to help match them with their new owner
rehomed with 4 weeks' free insurance from Petplan UK (cats, dogs and rabbits only)
How to rehome a pet from Blue Cross
Here's their guide to rehoming a pet from Blue Cross. They have hundreds of pets needing new homes every day. Take a look at their website to meet them -
Rehome a pet
.
When a new pet is taken home, that's not the end of the journey for Blue Cross. The charity offers ongoing advice and support - for life.
Blue Cross helped more than 40,000 pets last year. To find out more about the work of Blue Cross or to see some of the pets currently looking for happy new homes, visit
bluecross.org.uk