Blue Cross Tea Party 2015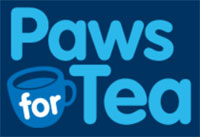 Paws for Tea and help sick, injured and homeless pets.
15th May 2015, or any day that you like, will be a nationwide tea party. Put the kettle on and raise money for needy pets.
Simply find a date that suits you, invite your friends, family or work colleagues, get the kettle on, bake some yummy goodies (free recipes available on the Blue Cross website) and serve up a fantastic tea party.
All the money you raise will go towards helping sick and homeless animals.
Themes could include celebrating your unbirthday with a Mad Hatter's Tea Party, a puppy party or an Easter party (another excuse to eat more chocolate!).
Venues can include your home, garden, school, office or club - or anywhere you fancy! So don't delay, find out more, get free recipes and register online.