Failed and retired working dogs need your help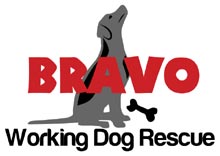 Bravo Working Dog Rescue offers rehabilitation and rescue to the many retiring working dogs from Police, Security and others. They are the only rescue offering rehabilitation and retraining to failed and retiring working dogs.

Sometimes even a hero needs help!

Bravo was founded by behaviourist Debbie Connolly because of the growing number of requests for help for retiring working dogs.

Dogs who spend their days on shifts and being active most of the day can struggle to retire gracefully and many are simply sold on or put to sleep at the end of their working lives.

For these dogs who keep our homes and workplaces safe, find our lost children and catch our criminals, this is a tragic and avoidable end to a career in service.

"We'd all like to think that dogs working to protect us, our kids and workplaces retire happily with their handler. Whilst this does often happen, it sometimes doesn't and dogs with high drive and working training can't make the transition easily back into a pet life. Our work offers help to make this transition possible." explains Debbie.

For many years Debbie has worked to rehabilitate these dogs, whether search, sniffer or patrol dogs and find them safe pet homes. Many have successfully finished their lives in front of the firesides they deserve.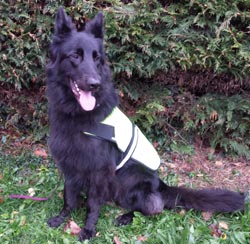 Some young dogs have issues that mean pet owners can't keep them and rescues can't risk taking them on, so Bravo also takes them and finds them safe working lives.

In order to carry on this important work, Bravo needs a new base. To achieve this and put up a much needed kennel block, they need to raise £5,000 and have set up a Go Fund Me page to raise the much needed money.

"We are now turning dogs away as the original kennels we rent is being turned into something else. We need to raise £5,000 to enable us to move and set up a kennel base in the Midlands. Anything you can do to help is much appreciated, without us, many of these dogs could be dead or worse." says Debbie.

Bravo rely on donations and fundraising. Please share the links, tell owners and rescues about Bravo Working Dog Rescue and share and visit the Go Fund Me link so that the funds can be raised.

Save hero police and military dogs

Debbie says "If you hear of a Police, private security or military dog in need of help, please ask them to contact Bravo. If you know someone wanting to donate a dog to a working home, ask them to call for advice first. We have also had to help get dogs back from unqualified handlers who have abused dogs, or who have sold on rescue dogs to other people. We have advised rescues on who to trust and what questions to ask to protect these dogs, ask us for help, we will always try to offer advice."

https://www.facebook.com/bravoherodogrescue/
www.bwdr.co.uk
info@bwdr.co.uk
Tel: 020 8144 5799